Walt Walewski contacted me some time back about some Large Scale decals for an Aristo SD-45 he had.
He sent me dimensions from his loco and we designed a set together with his input, you see the beauty yet simple elegance of his PRR SD-45 and his nicely groomed mainline.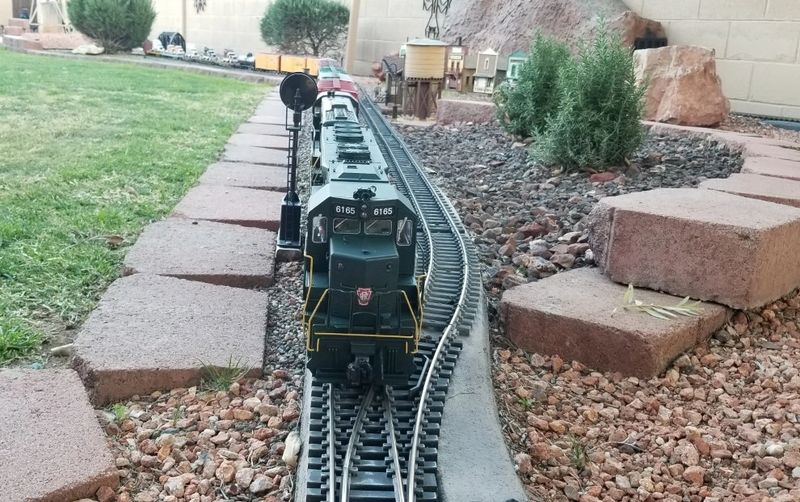 Lenard Tracey contacted me about a G-Cal Decal set for a G Scale GP locomotive he had. Lenard started with a Lionel GP 20 which was in The Milwaukee Road scheme. He stripped and repainted it into: Baltimore and Ohio Graphics. Nice Job Lenard!!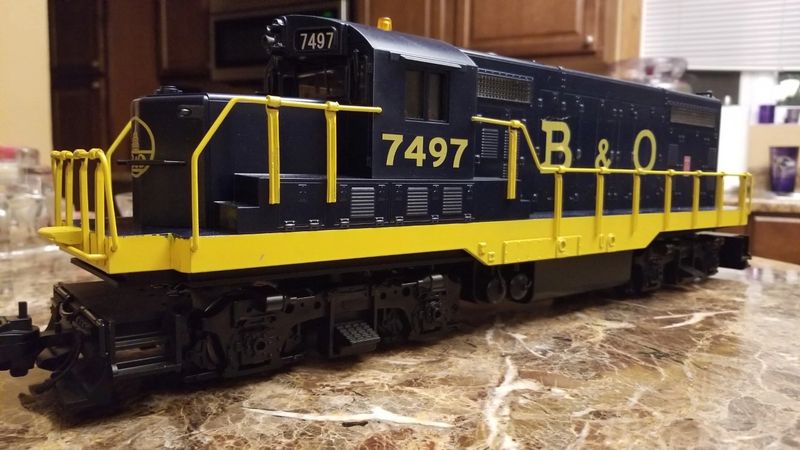 Terry Kolenc emailed me and asked if I could make him HO scale decals for Wisconsin Electric utility which has Thrall hopper cars. He sent me detailed measurements from his MDC cars and several pictures of the real hopper cars. It took us some time but as you 
see, the results were worth the wait. He also noted that the Wisconsin outline required that single decal to be cut into 7 individual pieces to install properly. Give him a hand for his work which he said averaged 3 hours per car to install these decals. A lot of work but he now has the cars he wanted. Nice job Terry!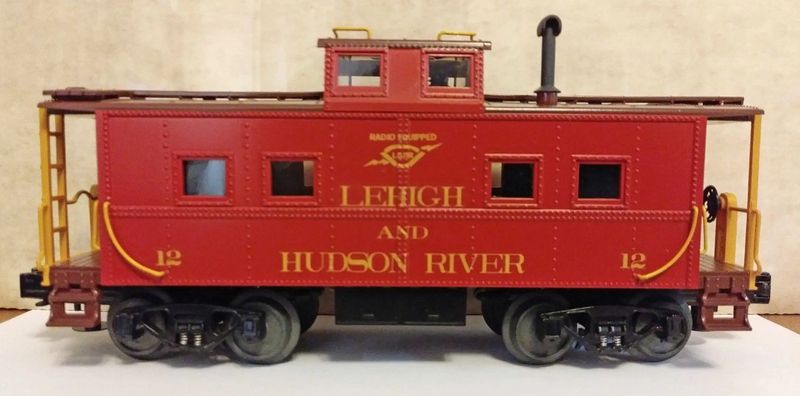 Above: David Pfeiffer emailed me about an O scale Decal set for a Lehigh and Hudson River North east type caboose. I had the set in HO scale and he shot me some dimensions of his O-Scale caboose. And as you see, A fine job he did for sure. If you don't see what you want, just ask. I can most likely make your decal sets that you only dream of right now. Just ask.
Jeff Koza wanted a particular switcher for his model R.R. SANITARY DISTRICT OF CHICAGO. He sent me links to the real switcher locomotive's picture. So I made him this set of decals for his road. Paint decals applied by Bob Kleinman. 
John Spange ordered our "Buffalo Brands" HO Whiskey truck trailer decal sets and did up a Sam Adams Lager which is a 1 piece decal which no painting is required as the sides and ends are full decals. He also did up 2 Chrome sided trailers in Johnnie Walker and Louis the 13Th whiskey trailers as well. The chrome trailer sets look awesome. Great job John!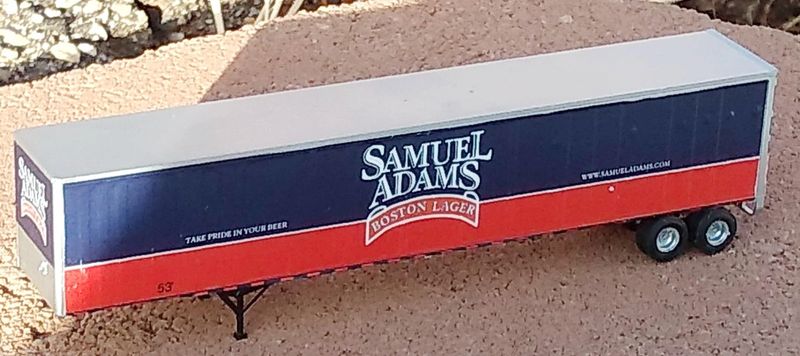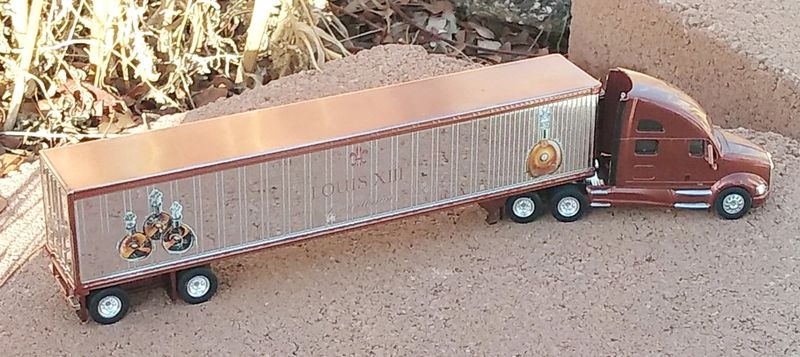 Bill Wade's been at it AGAIN folks. He had an Aristo stock car and made a personalized car for his fleet. He emailed me a donkey to which he instructed me to add some simple text to and Walah. A Central of Georgia stock car with attitude. Great job Bill.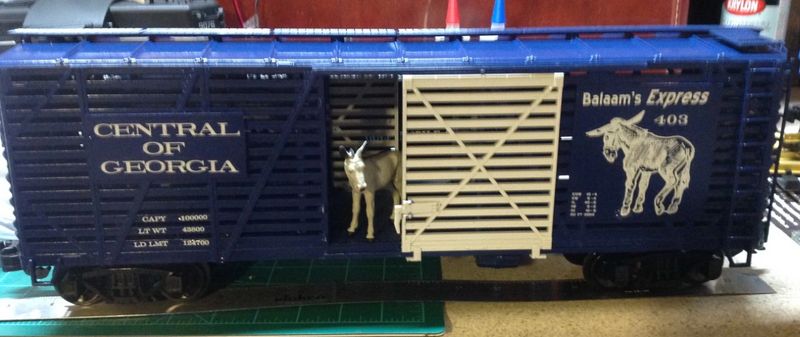 Bill Wade wanted a copy of an HO car for his LGB cylinder hopper.So he gave me some size info and there you are!

Carl Rettig ordered a set of O Scale "Mr. Gilberts Private Car" Here is Carl's nearly complete car with out end railings, but with the additional lettering shown above which he alerted me to.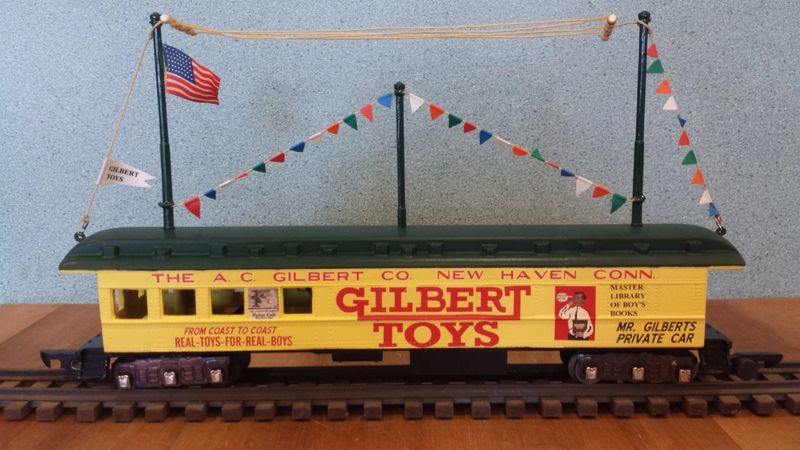 Wilson Martin built this tanker for his road and decorated it General American Tank Car. Decals from

MODERN

RAILS G-CAL DECALS

LINE. Good thinking Will putting together a home built tanker. And a great custom paint and decaling job. I especially like the caustic soda dripping stains. Scroll down a bit and see Wilson's Chrome SF Units he made with my decals.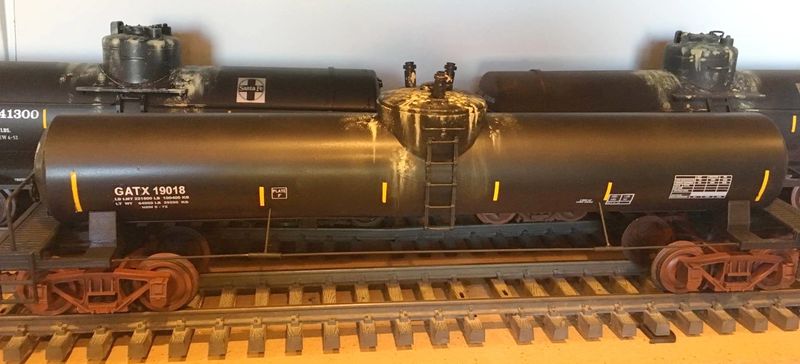 This is the tanker that received your decals. 2" PVC pipe and a Kirkville Locomotive Works kit. The dome assembly came from Ozark Miniatures. I'll add "molten sulfur" letters and add weathering then I'll call it finished!  

Bill Herbert wanted to make a old style MDC wood steam era boxcar. We found a decent picture of the MDC car he wanted to model. I drew the decal set right over the top of the lettering that was on the pictured boxcar. We see his newly modeled car below. Bill also wrote me: 
Hi Ricky,  The car came out great!!  Can't thank you enough for doing this one.  Photo attached.  I can send other views if you want me to. I was a little nervous about changing things on the car because of your comments but I really had no problems at all.  I did weather it lightly.
Bill
Awesome job on the painting and decal placement on your model Bill. I am pleased that you chose
Modern
Rails Decals
for your project.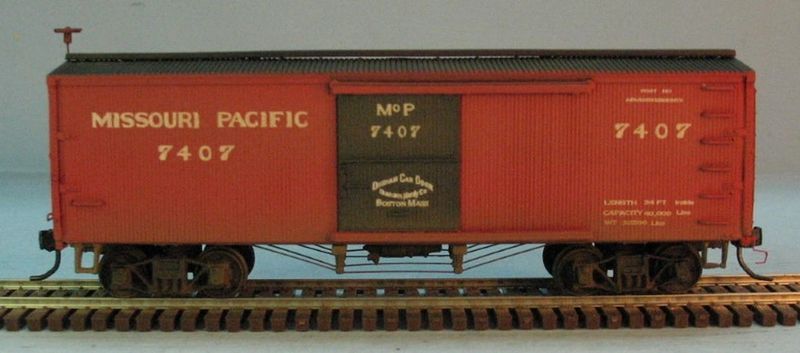 WILSON MARTIN CONTACTED ME ABOUT MAKING DECALS FOR HIS SANTA FE CHROME UNITS. HE SENT ME PICTURES AND SIZES OF FONTS ETC NEEDED FOR HIS PROJECT.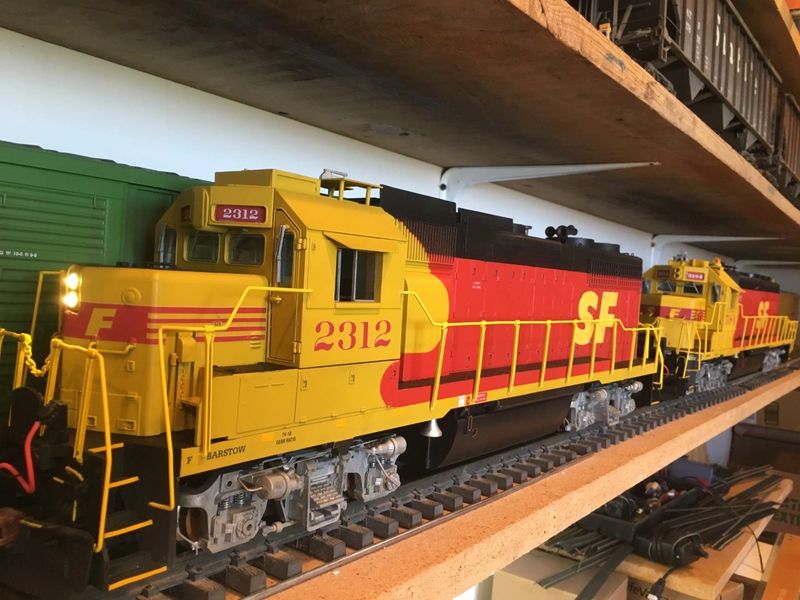 WILSON ADDED THIS: I shot them myself. I used Floquil paint I had bought years ago, through a Paasche H model single action  airbrush. SP Scarlet, ATSF Yellow and Engine Black, thinned with Diosol. Then clear coated with a gloss acrylic spray prior to decals which were set with Microscale Microset and Microsol, then Testors dull cote, feathered on lightly, as per your instructions. And I love the results!
A while ago Brien Wood contacted me about a single decal for his coal tender and water capacity for a decal.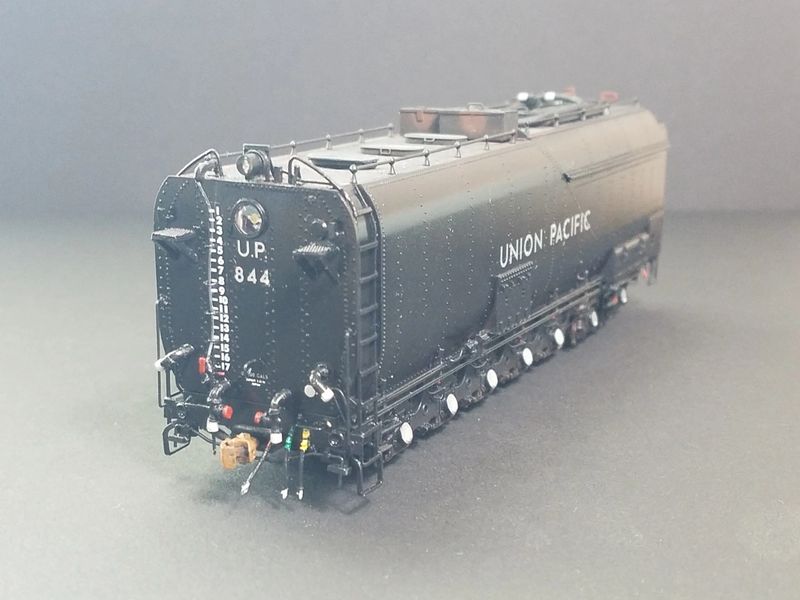 Ricky,
I received the decals on Monday.  Really appreciate your quick turn around!  Attached is a quick picture showing how the water level decal is used on my model.  If you want to use it on your website.
Thanks again,
Brien
Larry Mills worked with me to redecorate his CSX Diesel. And it turned out AWESOME!!
Here are a couple of photos of my repainted and decaled CSX that you made the decals for. I finally found the pictures in my train file foulder. 

Ron Nagey was very helpful in helping me to get this engine complete and back on the rails. It looks great! Thank you for working with me on the decals.



Sincerely, Larry Mills.
Thought I would send a couple shots of the first unit done...a Weaver U25B...custom made firecracker antenna, dropsteps, and sunshade, along with an Atlas bell, and precision horn...Locomotive was painted Floquil reefer yellow, and Scalecoat CP rail red 80% to 20% white... with out you this locomotive would not be  possible...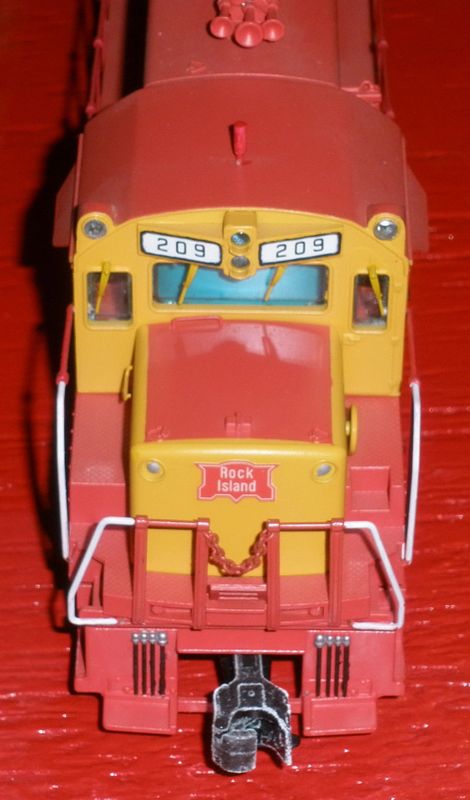 Brandon Presley Contacted me about 2 Southern Crescent passenger cars he wanted to change the names on. Working with Brandon, him letting me know the sizes he wanted for his cars names. We got the color right using Elephant's rocket Sunflower with a 2 spot color pass. He applied the decals and they look amazing. good job Brandon! The road names you see were drawn by Modern Rails Decals 2019.





IN THIS PICTURE WE SEE MARCEL MANTHA'S  CUSTOM PAINTED AND DECALED, LGB CABOOSE SPORTING MODERN RAILS G-CAL DECALS FOR LARGE SCALE. CUSTOM PAINTED AND DECALED BY: RON NAGY FROM WESTERN ARIZONA. GREAT JOB RON!!
IN THIS PICTURE, We see Chris Klein's G Scale Aristo- Western Maryland PS2 hopper custom painted, Modern Rails G-Cal Decals applied and his award winning rust weathering job.
Chris told me
. It is a combination of burnt umber oil paint and weathering powders.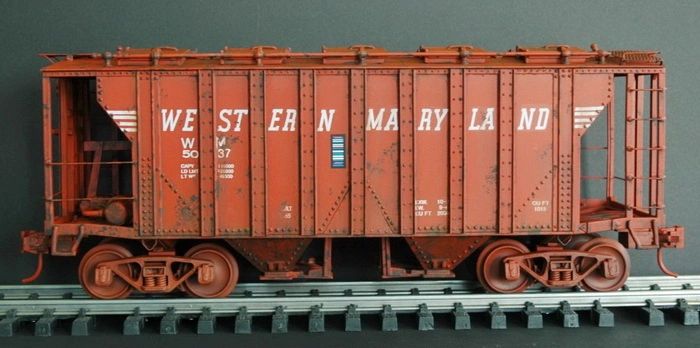 Here we see Below, Chris Fink's Cargill Corn Sweeteners Tanker car he custom painted and decaled with Modern Rails Co. G-Cal Decals.


I HAVE THE NEWLY RELEASED ALPS TRUE COLORS AVAILABLE:
SUNFLOWER YELLOW-A VERY DEEP YELLOW WHICH CHANGES THE GAME PLAN ON ANY TRAIN, LOCOMOTIVE HAVING YELLOW GRAPHICS, CHEVRON STRIPES. THESE ARE PREMIUM COLOERS AND I MUST CHARGE ACCORDINGLY AT $15.00 PER ORDER FOR MOST SCALES. HO WILL BE SLIGHTLY LESS$$.


ED JOHNSON'S 3 AND 4 BAY MAKE A WISH CYLINDER HOPPERS. A DONATION HAS BEEN MADE IN ED'S NAME.


Here is another model cutom painted and lettered by john Spange using Modern Rails Buffalo Brand HO Scale decals.




The cylinder hopper below was custom painted and decaled by John Spange. Nice work don't you think!
Richard Wentzel from New Jersey Sent us this picture of his Pullman Standard PS-1, The 50,000Th Boxcar  model he Custom painted and decaled using Modern Rails Buffalo Brands Water Slide Decals. Awesome work Richard!!!