Robert Kindermann, an N- Scaler wanted some logos for the hoods of his locomotives.

So he ordered a sheet of his LONE STAR Railroad logos. Simple logo yet very nice.
Blake Forgione models the NYO&W AND HAD PURCHASED MY O SCALE 
MOUNTAINEER PASSENGER CAR SETS. I asked him to help me develope,
a steam locomotive decal set for the mountaineer's  SOLE number 405. 
After 5 months of fitting and checking sizes, the set is finally finished. Blake
has supplied the pictures of what this beautiful decal set looks like on a 4-8-2 locomotive.
Blake has done a wonderful job fitting the artwork I mailed to him onto his locomotive.

John Martin modeled an Alco C-415 on his railroad. Here are the specifics:
 The model started out as a Perfect Scale brass engine. I had been looking for an Alco C-415 for a number of years. There was some tarnish on the engine which I cleaned off and sprayed a layer of Tamiya fine gray primer.  Next the top of the engine was sprayed with a flat black, the second color a flat green on the body. Next a gloss clear for the decals and after that a light coat of flat clear. Then it went off for sound  installation Esu Lok V with the proper Alco sound.  We changed out the open frame motor to a can motor, put glass in it, added lenses along with number boards, and all wheel pick up. On my layout I have peninsula that is 36" x  24" that houses my scrap yard, it is a pretty busy place that recycles a lot of metal. Some of the metal is shipped over seas, but most of it is send to the Chevrolet's Gray Iron Foundry in Saginaw.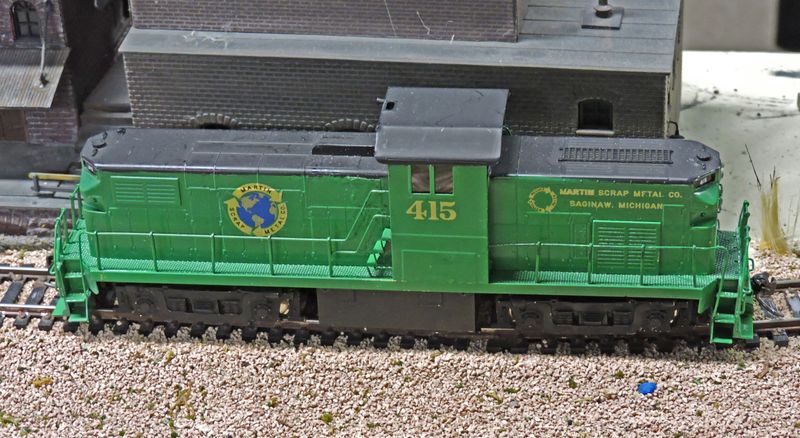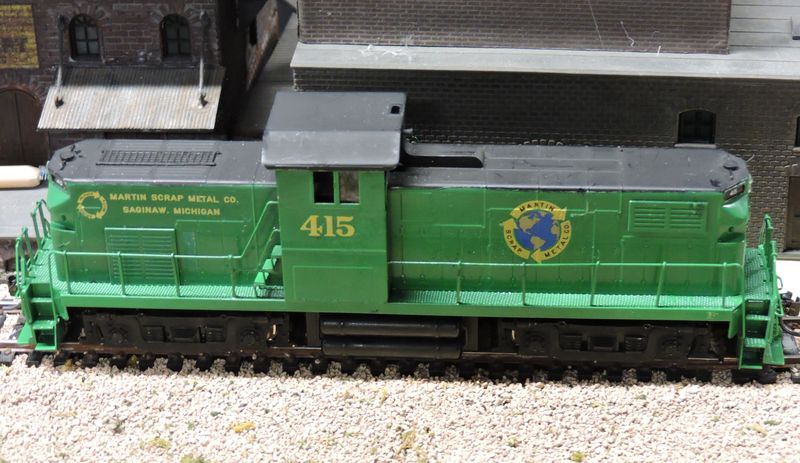 Jack Woehrle from Florida, wanted to make specific Florida East Coast SD 40-2'S THAT FEC 
 purchased from Union Pacific. These are patch painted, UP yellow on the long hoods
covering UNION PACIFIC A
nd FEC LOGO applied over the painted areas. Nice Job Jack.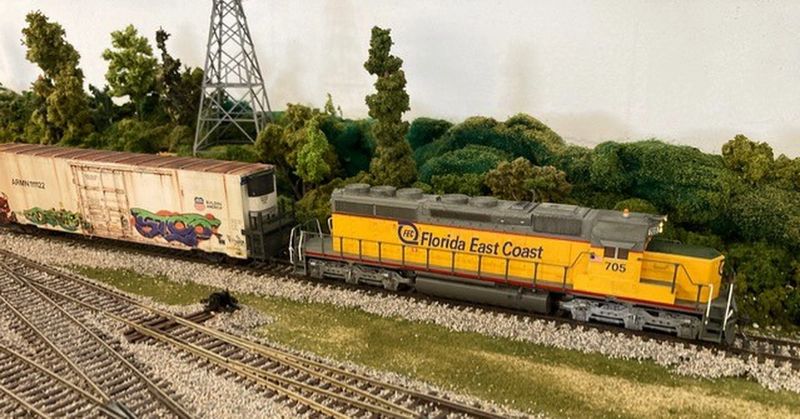 Henry Snyder from Florida, has custom decaled a Western Maryland Fireball
Steam locomotive and tender graphics, Looking pretty good there, Henry. Here is his creation.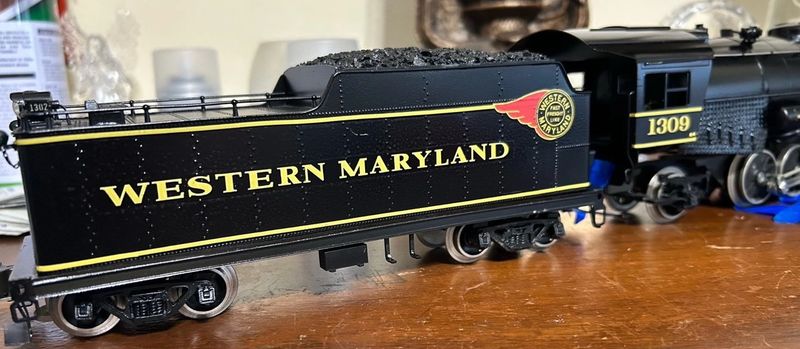 Jef Wood wanted a couple of different locomotives that he could not get at a hobby
store. So, he sent me pictures of the locomotives he wanted to custom do. 
He sent me dimensions from my page here about custom made decals. Here are his awesome results of his custom painted and decaled Geeps.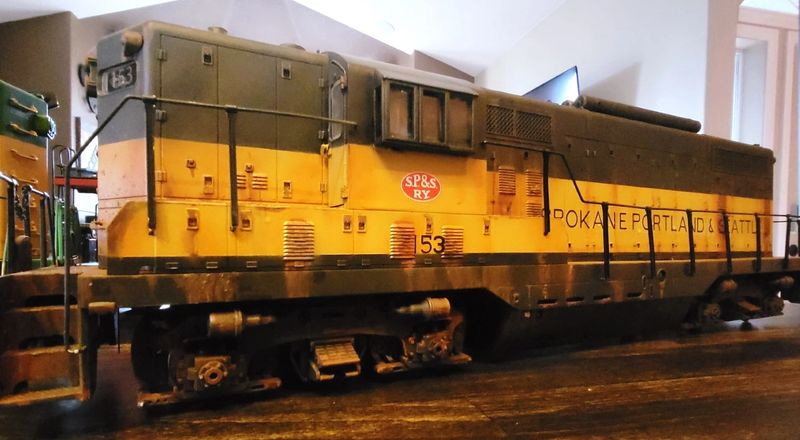 Notice the

weathering

he has applied to the Spokane, Portland and Seattle
GP-9. It looks like it's been doing some hard work in different weather conditions.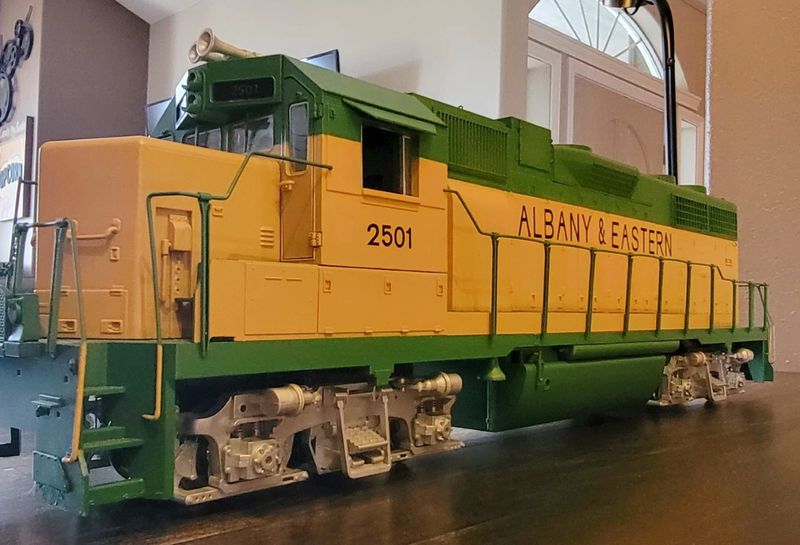 Here is his custom painted GP-38 in ALBANY AND EASTERN GRAPHICS.
Two very well executed custom locomotive jobs. Well done, Jef.
Cameron Smith is continually adding to his 1900 era PENNSYLVANIA R.R. Pike
new rolling stock. Here he has added some WESTMORELAND COAL GONS.
He gives me the dimensions of his rolling stock and I draw the decals from
pictures he provides as a guide.

James Sabourin ordered 3 AGWAY cylinder hopper HO Scale decal sets
and painted then decaled the hoppers and then put the hoppers to work
at his AGWAY GRAIN MILL. This appears to be a pretty busy place. Must be grain
harvest time where he lives.

Every once in a while, A customer's project turns out so good and professional,  I must showcase
what they have done with my decal sets I make for them. Richard Simpson out on 

the West Coast has made such a project in his Disney Land car Lilly Belle. Here are some 

pictures of his masterpiece and display effects.


















Long time customer and friend Bob Lister wanted an HO scale Publix RBL 50 ft
boxcar Painted Publix green with white text etc., and a shopping cart. Here it is.

Albert Wilson wanted an O Scale B&O Tool car and sent me an Amtrak car to strip
and repaint. I painted it Royal Blue per his request and made the O Scale
decal set and this is the finished product. 

Don Caird saw the HO Scale Belfast and Moosehead Lake sets on the cart site. 
He asked if it was available in O scale. I received some dimensions from his
Lionel Caboose and he now has it running on his rails. Don wrote:
 I was fortunate enough to find a bottle of Polly S caboose red and grimy black. After painting my Lionel caboose I sprayed it with Krylon clear satin. After letting it dry, as carefully as I could, I used Micro Set and Micro Sol to place your decals on my little caboose. I'm happy with the results. 
Thanks, 
Don 
Steve Gohman ordered some I&GN decals which I had in my Library and sent me
some pictures of his custom painted and decaled turn of the century wooden boxcars.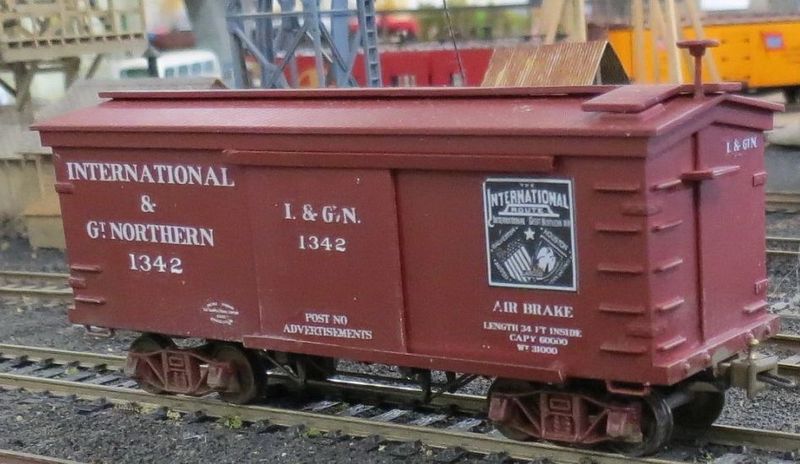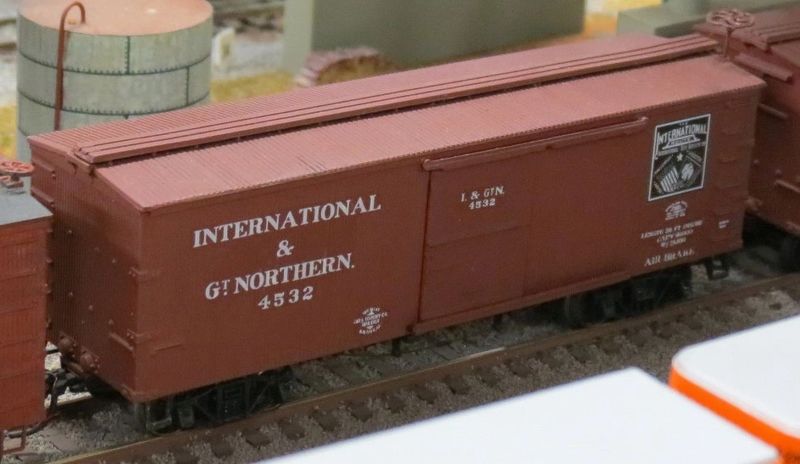 KEITH NELSON WANTED SOME JACK DANIELS REEER CARS FOR HIS PIKE. 
Here are the results of his custom painted and applied decals. 
Very nice job there Keith.

Wayne Hamilton ordered a set I had in my files for the Southern RR-
Gives a green Light to Innovations. Here is his masterpiece, which is
looking awesome! Wayne had this to say about his model and added
some info that will be useful if removing factory details.
I used an undecorated USA Trains 40ft. PS-1 Boxcar (R19200X) in 1/29 scale. These are unpainted grey plastic and OOP currently. I started with disassembly and cleaning all the parts in soapy water.  I used Tamiya Fine Gray primer as a base coat, then I used Tru-color gloss boxcar red (TCP-4020) for the exterior finish coat. The interior was painted in a light green color from an unknown brand rattle can. Tamiya tape was used as a straight edge to help align the decals. I flooded each area with a diluted solution of Micro-Sol to float the decals into position. After the decals were in position and blotted dry, I applied Tamiya Mark Fit Strong in multiple passes to set the decal around rivets and other details. As soon as the temperature warms up, I'll complete the weathering and dull cote. I also use body mounted Kadee #1 scale AAR type E couplers on all my projects. (#1900R)
As a side note, painted USA Trains rolling stock are easy to strip of their paint by soaking in 70% isopropyl alcohol. 91
% isopropyl alcohol will help break glue joints to remove detail parts.












Chris Sullivan has an electric utility company up North. He wanted to have

some scale models of his utility line trucks. So, he sent me his company's

logo. Which he placed on the doors and boom of his trucks. Chris said this

These trucks are scale replicas of the trucks we use everyday maintaining the electric lines for our electric cooperative. I wanted them to sit on my desk at work because they look identical to the ones we use. They look great and really appreciate your promptness and professionalism. 





DICK HANNA IS MODELING SEVERAL ITEMS ON HIS PIKE. HIS NEWEST IS
THIS I BELIEVE IS A 2-8-2, CAN'T SEE THE WHOLE WHEEL ARRANGEMENT,
. ANYWAYS, IT'S THE ABERDEEN 
AND ROCKFISH STEAMER.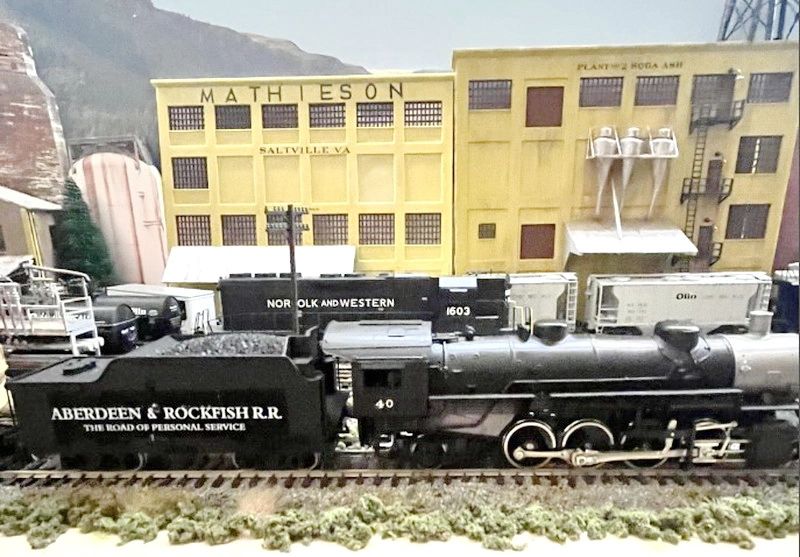 Michael Clark has this to say about his scratch built ROCK ISLAND flatcar:
This flatcar is a complete custom build from stuff I had laying around. The idea behind it is I had two toy New Bright cars. Well what the heck to do with it?
I turned them into the long defunct Bellviewe and Cascade narrow gauge which ran near me. The road was owned by standard gauge Chicago, Minneapolis, St Paul, Pacific and was nicknamed "Iowa's Slim Princess."
Eventually the line went out of service. A caboose (the only one owned by the narrow gauge) and a boxcar were saved. Over time the pieces were donated to a tourist railroad in Mt Pleasant, Iowa where they have been refurbished and run.
Tho the cars were moved by truck I figured a "what if" and created this flatcar to move them. 
The brown is rustoleum satin dark brown.
The top of the flatcar was hand brushed with Matte black to simulate the wood deck.
Trucks are off a Bachmann passenger car with metal wheels. Body mount kadee couplers. I made the brake wheel assembly,  copper rods for the stirrups, and small link chain to simulate the tie down chains. 
The car body is 1/2" plastic board and styrene sheet for the side skirt.
Very pleased how this turned out and had several positive comments already.
Thanks Ricky!
Great job Michael!! and way to use some extra parts and rolling stock you had laying around.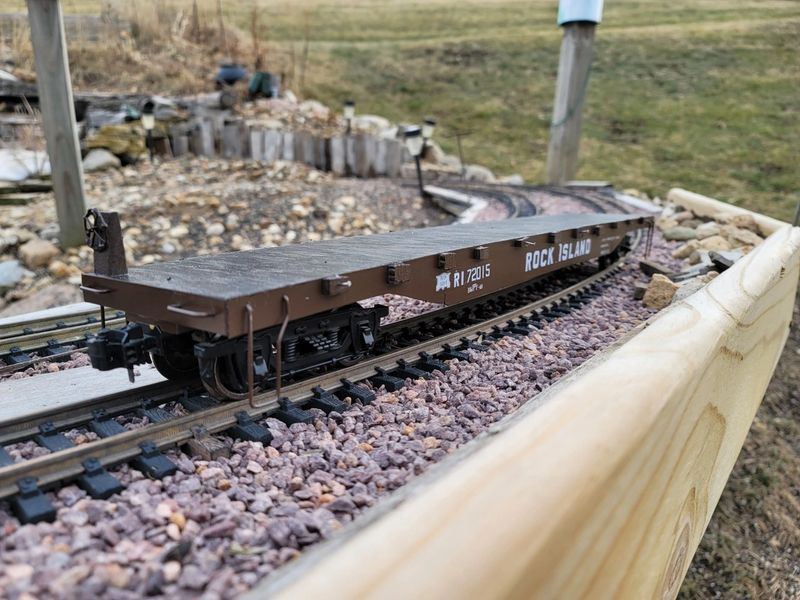 Joe Stewart ordered the G-Cal Decal set for Oregon, Pacific and Eastern.
And did up this 60 ft DD boxcar. Painted, applied his decal set as well as
a professional weathering applied. Nice looking car Joe.
Michael Clark is no stranger to laying on the decals and painting custom cars.
Here is his latest creation of THE ROCK.  Mike added this: 
Here is my 3rd Rock Island hopper. I took the liberty of making it The Rock instead of Route Rock as this is a custom car for a friend, and that was his request. 
LGB 3 bay centerflo. 
91% ISOPROPYL alcohol bath to clear off lettering. 
Rustoleum paints.
3 coats granite gray primer.
3 coats Maui Blue gloss.
Bottom bay doors Rustoleum metallic.
Catwalks stayed their original aluminum color.
Couplers changed out from hook and loop to Aristo as that's what customer runs.
The white in the middle of the R didn't present as well as I'd liked so hand painted the middle a bright snow white.
Custom car number for an important date to my friend.

Bernie Winkler did up this large Scale Boxcar. He said it was tough getting the decals to lay on the over the klunky ribs on this car.
Mike Clark has done up a second LGB Cylinder hopper in ROCK ROUTE.
Here is what he said about his models. 
 T
he cars are LGB 3-bay centerflo covered hoppers. They are often seen on prototype railroads with markings for ADM, SHPX, Union Pacific, Cargill. The ones I have started as SHPX and Dupont Sclair.
I removed all the catwalks, trucks, wheels, and bottom hatches before painting.
Neither of these have been "dipped" (given a 91% isopropyl alch bath to take down to bare plastic) but have 3 coats of rustoleum granite gray primer. 
After primer the bodys were sprayed with Rustoleum 2x brand paint in Maui Blue. A close approximation for the Blue on the prototype.
Catwalks were sprayed with Rustoleum metallic aluminum color.
One one car I left the bottom hatches blue and the other got aluminum color.
One car got trucks painted with Rustoleum "rust" and dark blue roller bearing axle ends. The other car retained factory painted trucks.
Decals were applied and brushed with microsol. Both cars when completed were sprayed 2 coats of Rustoleum clear satin. 
The car numbers are custom and are actual dates with meaning to me. 
Both cars have metal wheels and kadee couplers. One set body mount the other truck mount.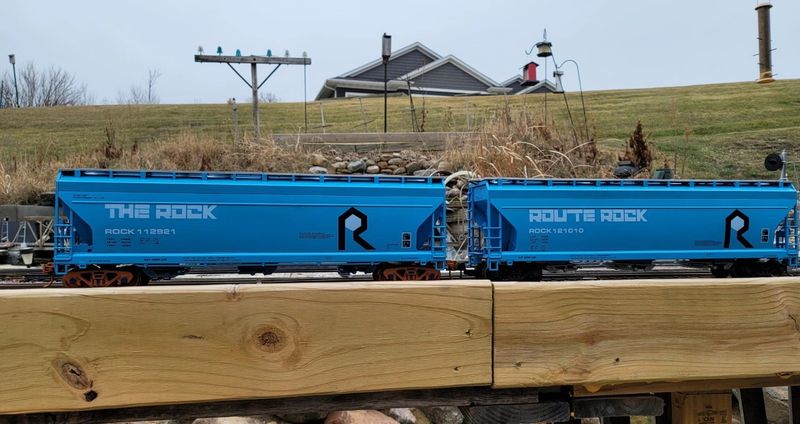 James Cunningham, from the Left Coast got a water tower for his pike. 

Here is what he had to say about the D&RGW Toilet seat logos. 

The tank was built from a 1/24 Pico kit.  It was my goal to build a model of the tank in the Chama, NM. yard.  You may know that that tank is unique, in that it has two spouts and can service two tenders at the same time.  The second spout, framing, counterweights, pulleys and chains,  were all scratch built.  The tank color was matched with a paint chip taken from the Chama station during a restoration.  The weathering was done with a flat black acrylic paint wash and various colored chalks.  Your decals were the finishing touch.  The finished tank, for me, brings back memories of good times in Chama.
 

 
Mike Grabko wanted to model the Wilkes Barre & Eastern 40ft SD
steel boxcars. He worked with me with the dimensions he needed 
and approved the artwork and has a one of a kind custom painted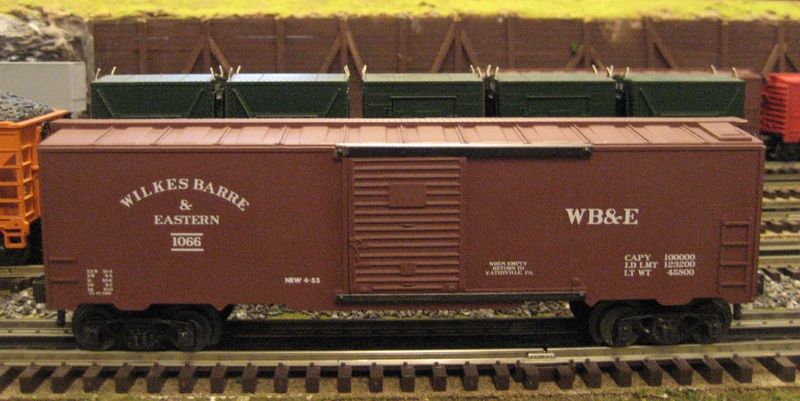 Michael Clark purchased the Route Rock G-Cal Decal set. Here is his finished product.
Nice paint, Rusted trucks and Awesome decal set. Great job there Michael!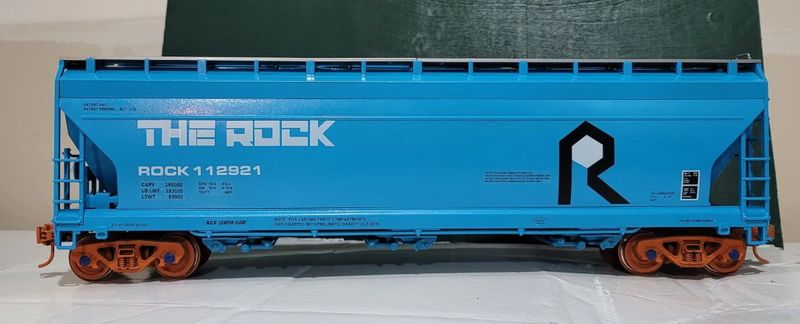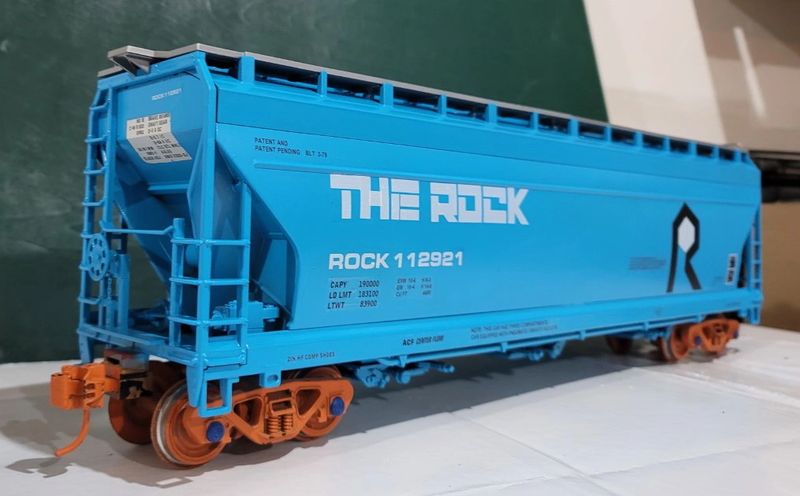 Cameron Smith has been adding onto his 1900'S era PRR line.  This you
see here is his newest addition of a series of PRR flat cars. As usual, his

work is top notch wouldn't you agree.
  
Ryan Crawford wanted to make his BN Open hoppers as realistic as possible. 
He sent me many colored pictures of the hoppers he wanted DATA for.
Here are some pictures of his hoppers with data the factory produced ones
do not include, I guess. These hoppers are looking great and he is happy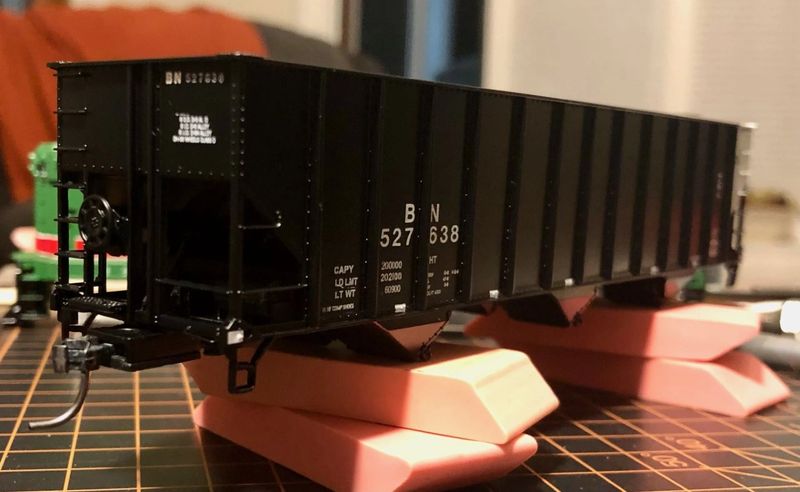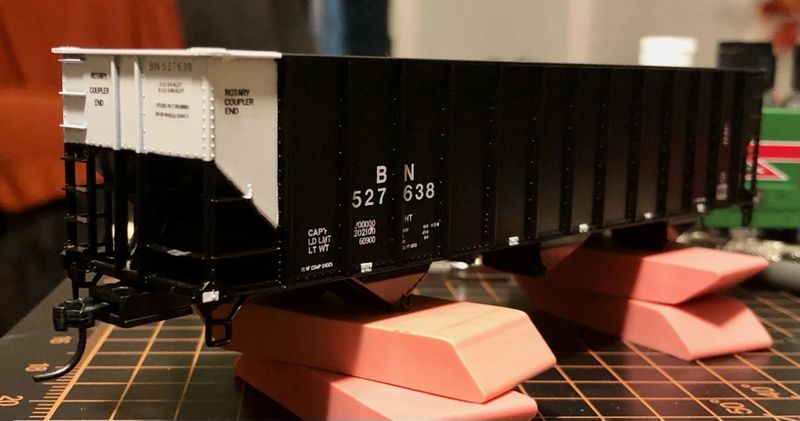 Max Y von Franque, contacted me wanting to make 2 models he could not get.
He helped me with measurements from his models. I drew him artwork and think 
it took maybe 2 sets of artwork mailed to him before we got a proper set
of decals designed for his 2 different type trains.
 Here are pictures of Max's specialty car and a loco. Nice work wouldn't you say!!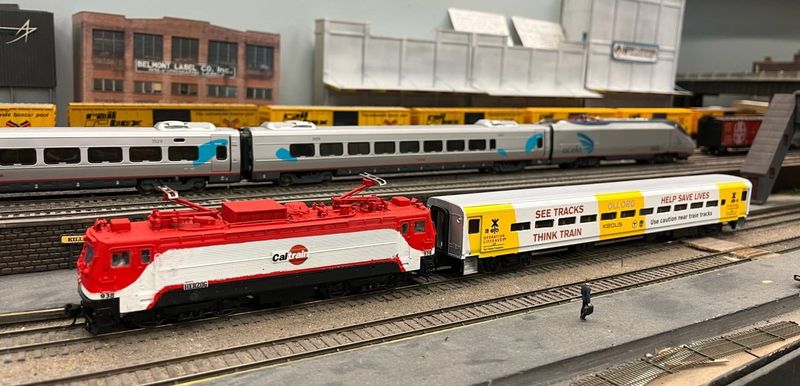 Alfonso Sanchez out on the Left Coast Models the N DE M Railroad and wanted some fine nose decals for his S Scale American Fler trains, so I drew these highly detailed nose logos.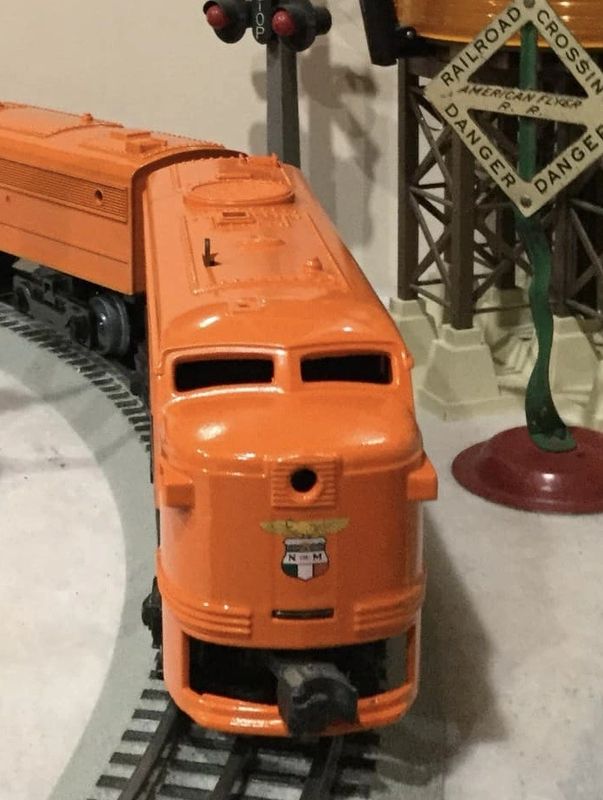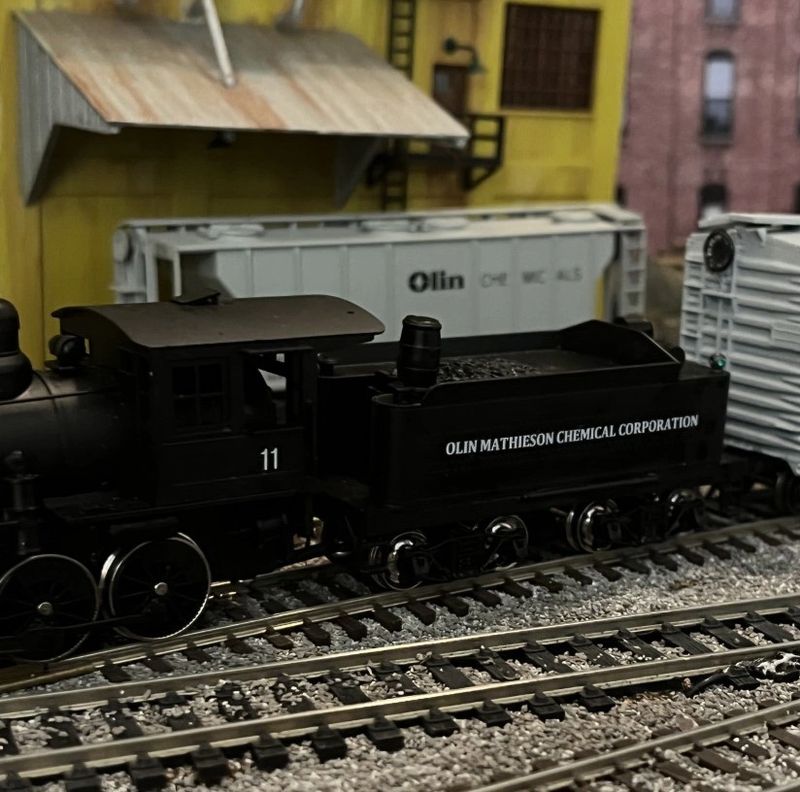 Another Of Dick Hanna's models he did up was this 2-8-0 Consolidation of Mathieson Chemicals.
Dick Hanna of Georgia wanted a Aberdeen and Rockfish Company car and sent me a good picture.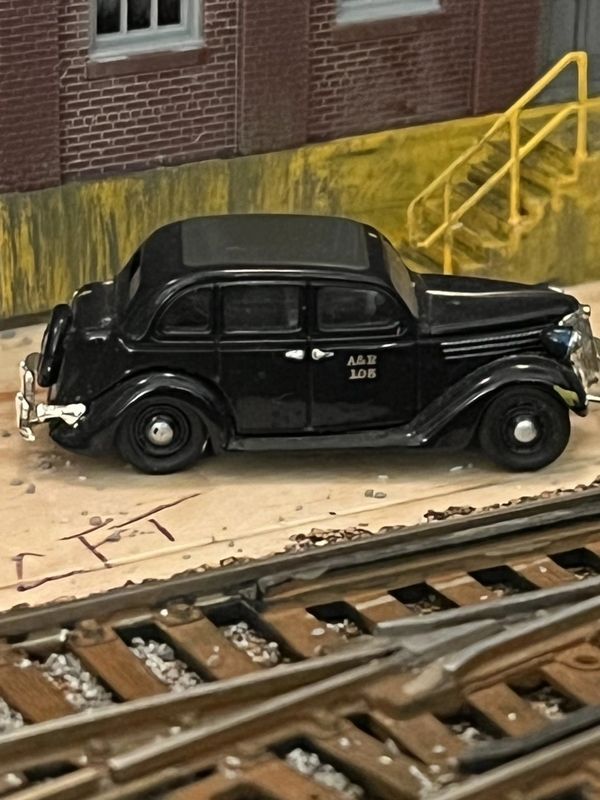 I drew over the lettering and produced an exact replica decal set of the car's lettering. Here is the car.
W. Bruce Martin made a quantity of 5 SF SP Type locomotives. Here is an awesome picture of the 5 of them grouped together. Bruce is a Craftsman, if you had been following his build of a U-Boat B-23-7 on FB you know what I mean. The B-23-7 is at the bottom picture. With his help, I produced the decals for these 5 beauties.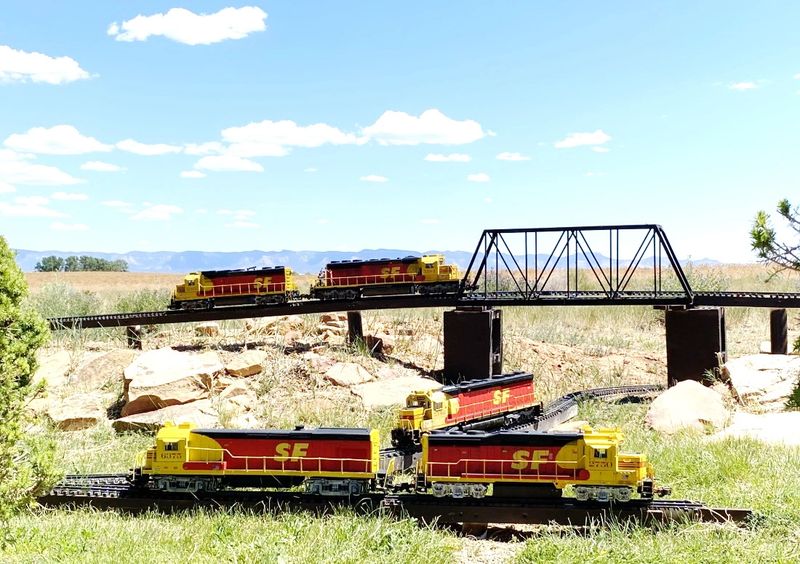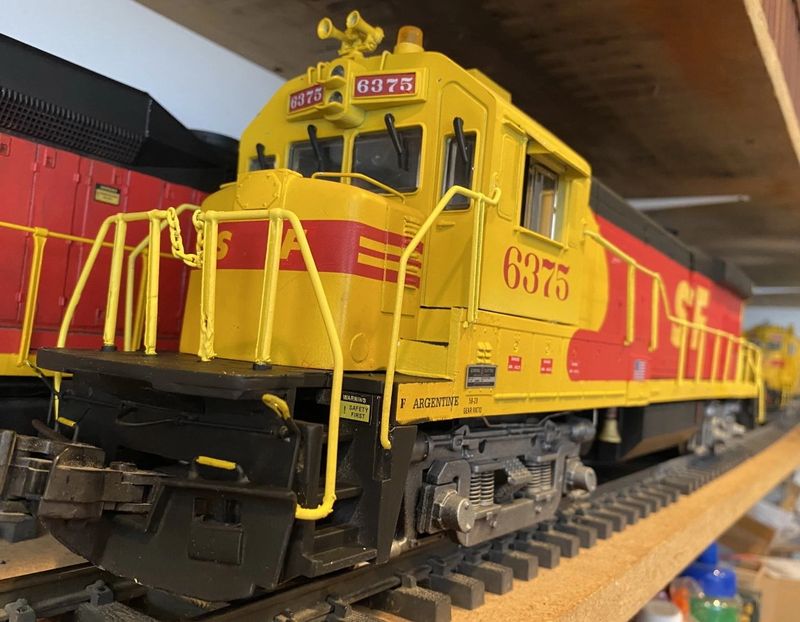 Dick Hanna has been modeling the Olin - Mathesis Co. and has a FM Trainmaster he did up with Modern Rails Decals. Here is a couple of pictures of the beast. Thank you Dick, for sending these action pics of your Custom FM locomotive. It looks Great!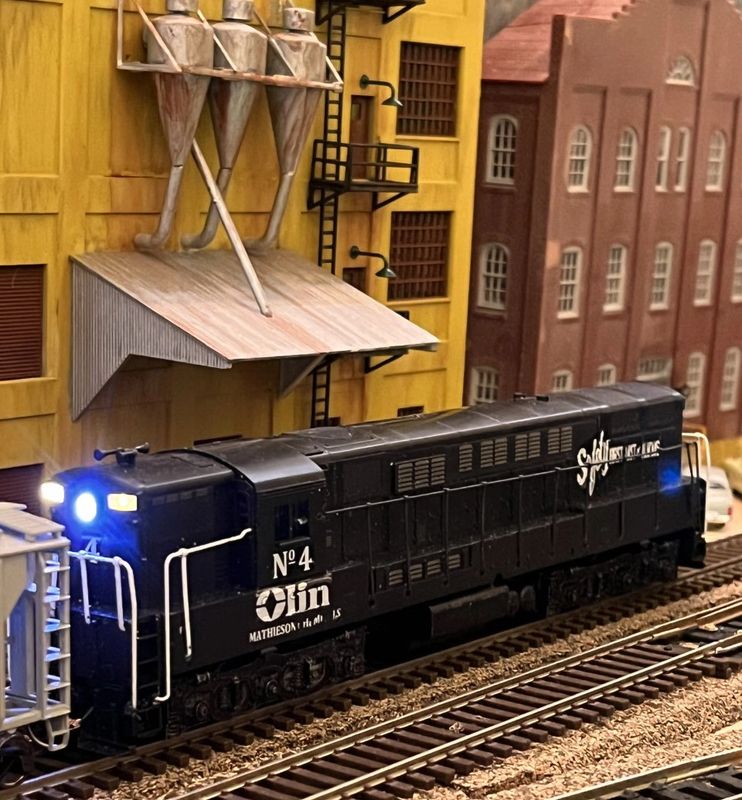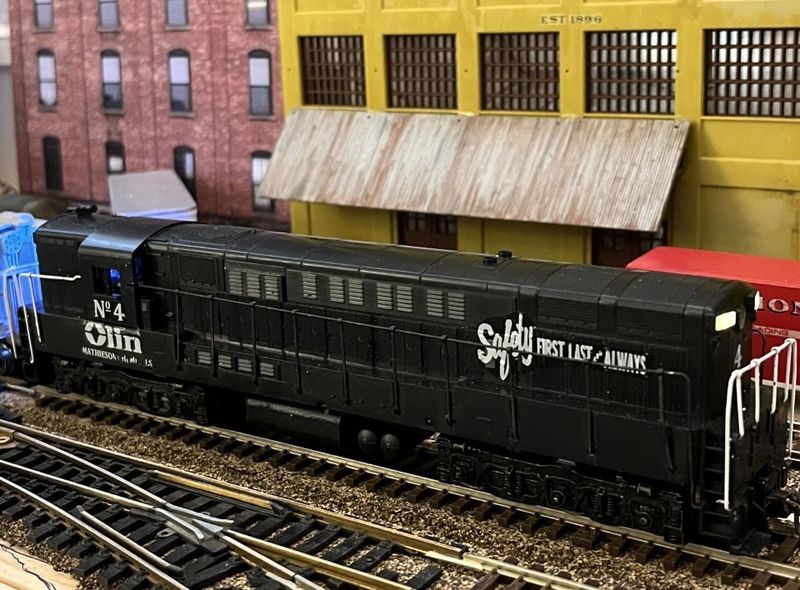 Phil Dearing sent 2 more pictures of his excellent HO Scale Roundhouse cars done with Modern Rails Decals. They are the San Rafael Buffet and smoking car. The second car is the Pullman car Ben Lomond. Another 2 great looking cars from Phil's paint and decaling shop.

Dick Hanna has been at it again. He wanted some HO decals for a Norfolk and Western caboose. Here is his finished product. Very nice. Wouldn't you agree.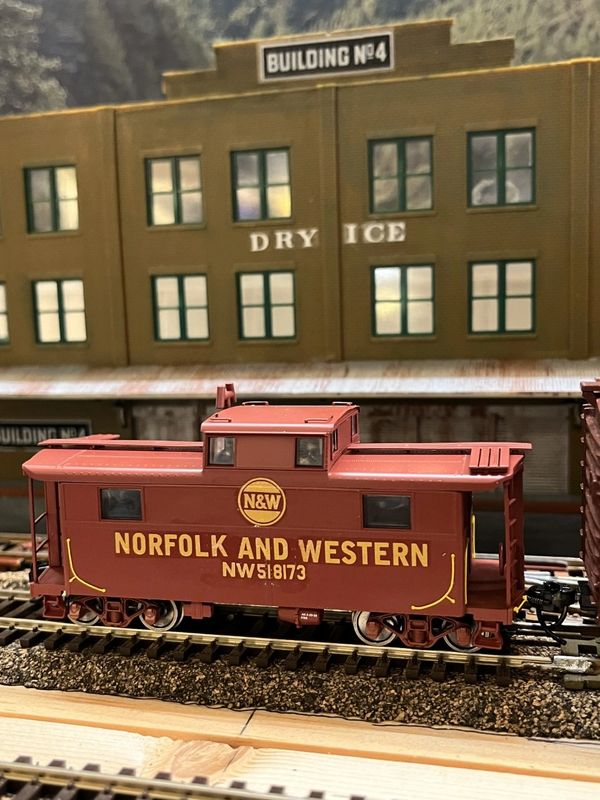 Phil Dearing contacted me about some HO Scale decals in Satin Gold for his Santa Fe Roundhouse passenger cars. So, he put the car together and did a splendid job applying the decals onto his cars. Here is the results and what he had to say. GREAT job Phil!
Hi Rick,
 
I've finally finished my HO scale 1905 California Ltd.   Attached is a pic of the dining car, using your decals.
 
If you can use this photo on your website, please do.    Or just keep for your files if you'd like.
 
Thanks again for the great job on the decals!    I'll be in contact with you again soon to see if you have time to help with my next project.
 
Cheers,
 
Phil Dearing. 

This decal draw job was a bit different. I try to help ANYONE that needs a decal made, not only trains. James Murray was restoring a Kawasaki motorcycle speedometer. What he asked for was a very small decal that indicated a CHARGE of the bike's battery. He had a very old decal as a template. Anyways, with a copy of artwork sent to him, he said to try this, do that. And I came up with the small decal which you see below.
 




Cam's been at it again for his Pennsylvania pike. This lettered for Pittsburg, Cincinnati, Chicago & St. Louis Railroad. Cameron wrote:

Beginning 1902, the Pennsylvania Railroad installed thousands of GS pressed-steel gondolas in three sub-classes.  Some of the gons lingered in revenue service into the early 1950's.  One of the sub-classes was a simple tight-bottom gondola, first built in small numbers during 1902-03 for some Lines West subsidiaries.   This gondola represents one of those tight-bottom units, built from a backdated F&C kit, wearing lettering in the original style as built, before the 1905 renumbering and repositioning of lettering elements across the PRR system. 
Another outstanding Custom from Cameron.


Cameron adding to his PRR steam era pike, Wanted some more PRR gondolas. These 2 are Westmoreland PRR class GB hoppers. He does nice work, wouldn't you agree!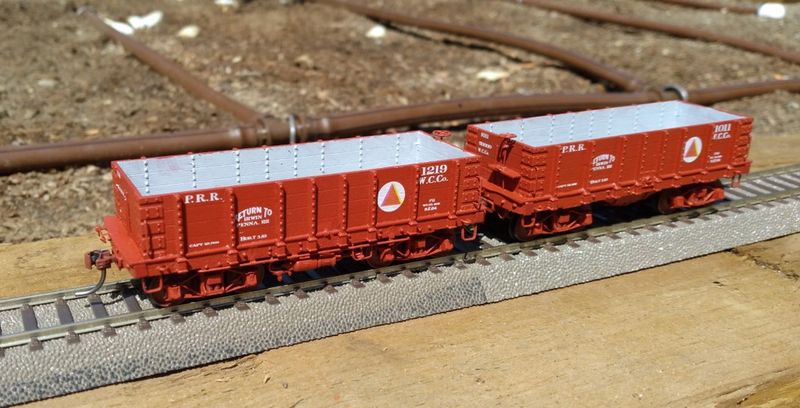 Matt Seydell has been building up his fleet of Modern Rails one of a kind beer car HO decal sets. Here are 3 he has custom painted and decaled. Nice workmanship Matt. Thanks for the pictures to!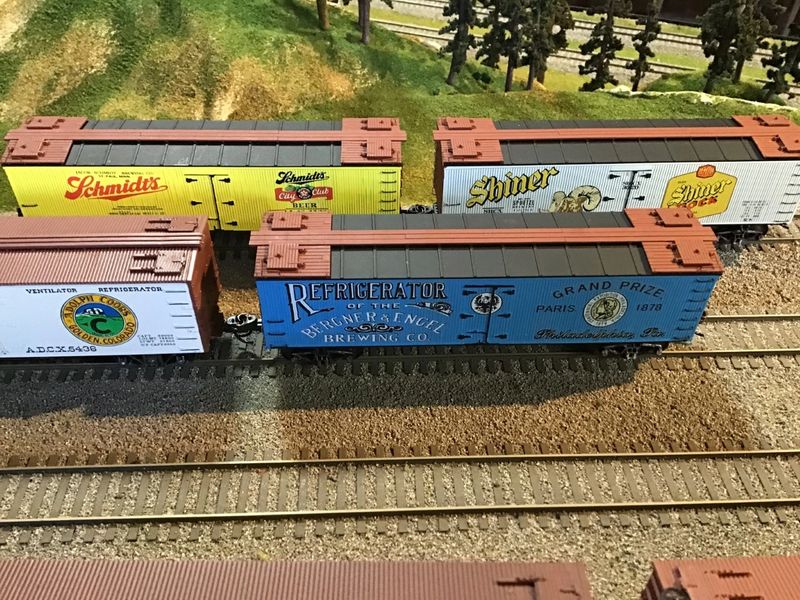 Here is an old one. Larry Trumbull's Milwaukee Road double door 50 ft boxcar decorated with Modern Rails Decals.

Joe Stewart ordered a set of Bay Line G-Cal Decals for a car he wanted to redo. Here is a picture of this excellently weathered 60 ft. boxcar.

Joe Stewart then contacted me asking if I could draw a new set not in my files. He sent me pictures of an AGP tanker car and I drew over the logo and repro'd the pictures graphics contents into a G-Cal Decal set. Joe wrote to me: 
She's coming along
Thanks for the great job on the decals

Regards
       Joe does beautiful work, wouldn't you agree. He also knows how to weather his rolling stock as well.
  




Kevin Paige models the Providence and Worcester Railroad and wanted some specific sized decals for his equipment. He sent me pictures of the logos he wanted, and I drew the artwork from scratch as I usually do and came up with several versions for his pike. Kevin wrote me saying:

The decals are high quality and really apply nicely….thanks again. You are welcome Kevin and thanks for your order!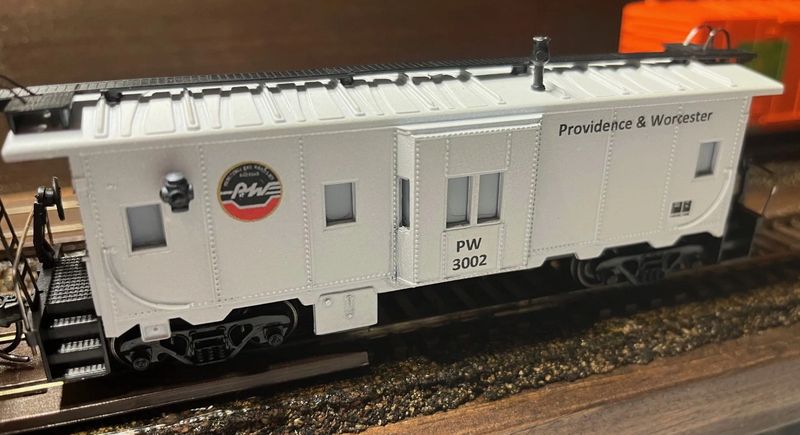 Cameron Smith models the PRR turn of the century and always sends info about what he wants to do. Here, He writes about this scratch built flat car: 
The class FB was the standard general-service flat car on the PRR during the 1890's, and many lasted in service into the first two decades of the Twentieth Century.  They had a capacity of 60,000 lbs. on six truss rods.  The cars I scratch built represent them circa 1905, before renumbering but refitted with air brakes and automatic couplers.
I scratched the car frames, queen posts, and body bolsters from dimensional styrene strip, then added Tichy K-brake gear.  The brass wire truss rods fasten in 3" Tichy castings and have Tichy turnbuckles.  Tichy stirrups and San Juan (ex-Grandt-Line) stake pockets dress the car sides.  Safety equipment on the car ends is A-Line chain with Precision Scale hooks.  The deck is made of scale 2"x6" wood boards, with 2"x12" end boards.  Brake wheels are Bowser parts, and the shafts run through cut-down resin ratchet-and-pawl castings into underframe brackets bent from bronze strip.  Kadee #58 couplers and Tahoe 5'-wheelbase trucks with Kadee wheelsets complete the running gear.
Spencer Farnham who models the Arcade & Attica Railroad in earlier times as well as present day. Ordered some early orange boxcar sets from me and said he wanted to model 2 versions of A&A wood type cabooses. So I redid the sets for these specific wood cabooses numbers 303 and 304. These are his handi work painting and decal installation for his cabooses.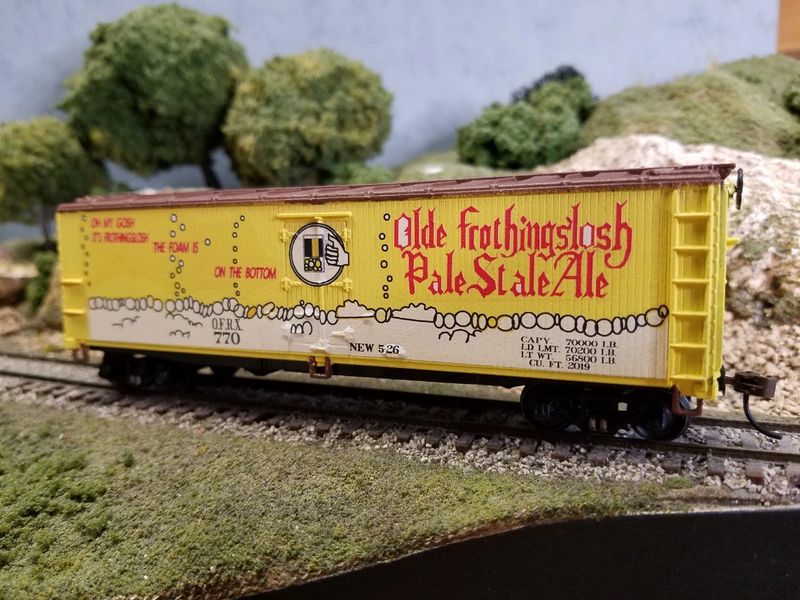 Denis Merideth checked out my website and purchased the minimum amount or more of decals and You see here his Old Frothingslosh Pale Stale Ale HO Reefer car. Nice job of painting and decaling I might say. Don't you agree!
Al Marrano contacted me and sent me a picture of an American Flyer America's Greatest Show circus car. I put the picture into my draw program and drew over ther top of the lettering in my draw program and produced this set of decals which Al put on his car after he custom painted the car. I say this is one fine custom Al! Nice job man! craftsmanship.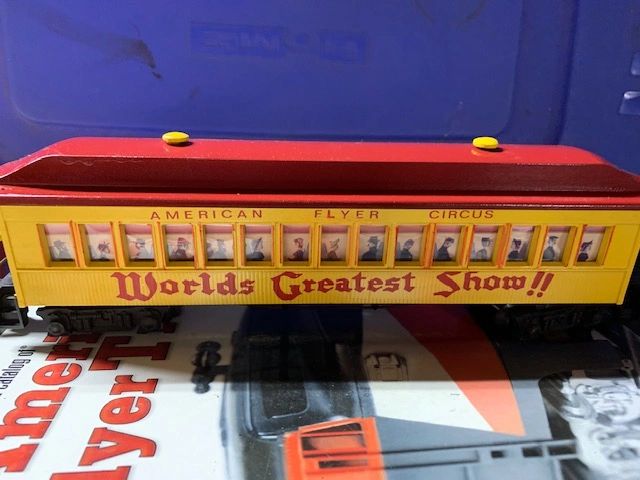 Mike Grabko also sent me dimensions form an O scale caboose and we came up with this fine caboose he painted and lettered with MRCD- Modern Rails Co. Decals. Another fine custom there Mike.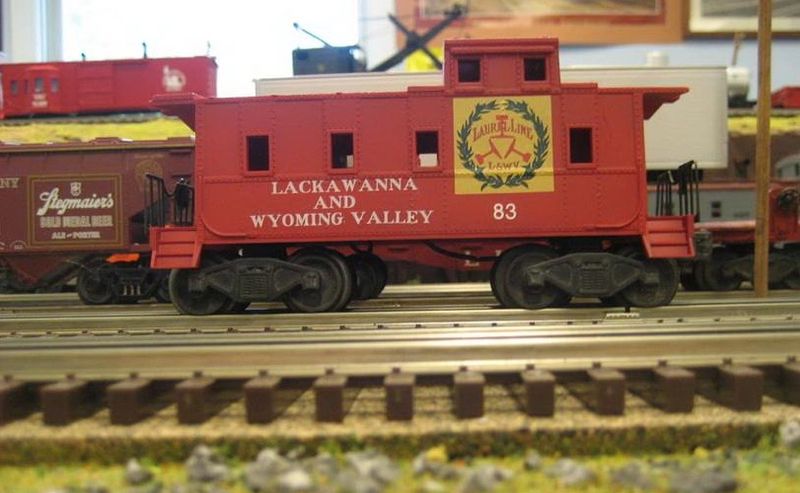 Mike Grabko contacted me about some O-Scale boxcar sets for the short line Lackawanna and Wyoming Valley "The Laurel Line" He gave me some dimensions and I drew the car you see from a prototypical photo of the cars. Nice job Mike!!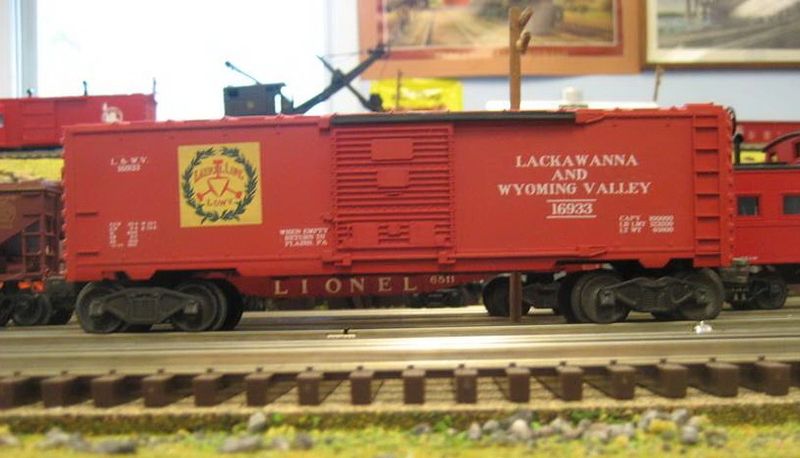 John Beecher contacted me about some D&RGW SCENIC LINE BLACK LOGOS. He emailed me dimensions of what he needed. After awhile I was able to produce his water slide decal logos in black ink. He decorated a Bobber caboose as well as a gray wooden type gondola with the second pair he ordered. I was glad to help him finish his 2 projects.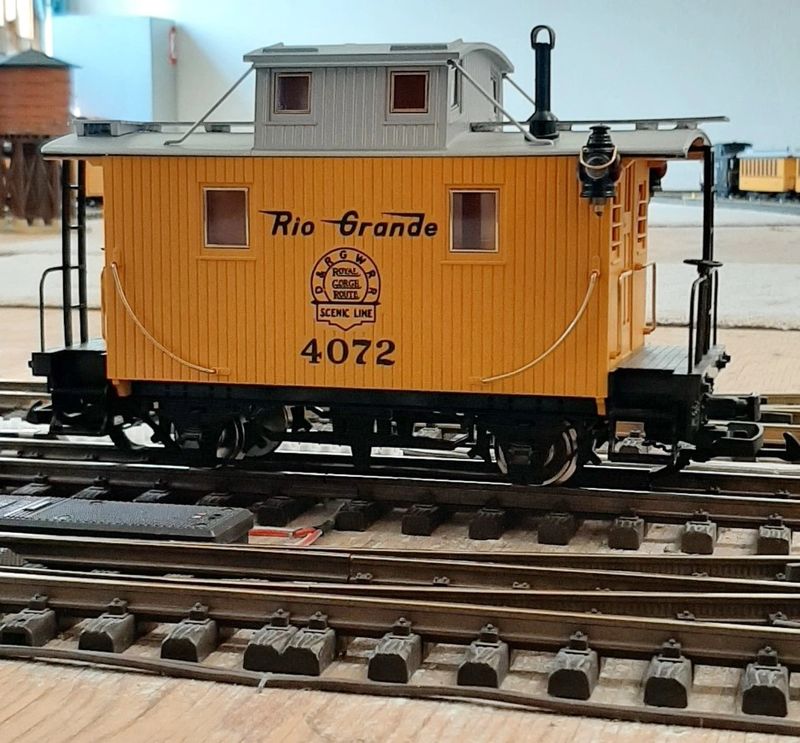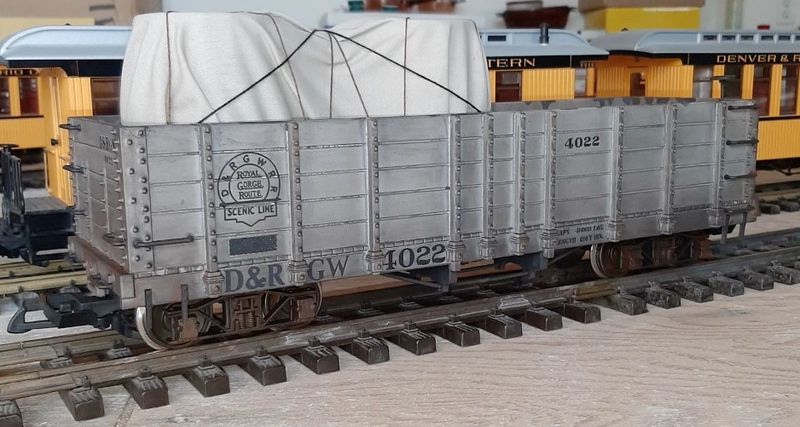 Adam who resides out on the West Coast, Contacted me about some custom decals for his HO Scale pike. We did decals for his Sierra Central Railroad and also his rendition of the San Juan Central. Adam wanted decals for Diesels, Steam locomotives, 40 and 50 ft. Boxcars as well as different types of cabooses he models. Here are pictures of his custom painted, decaled AND weathered equipment. He has done a fine job presenting his idea and making it real for him. Thanks Adam? That was your name right.. An inside joke we had. 













Aaron wrote me about some O scale cars he wanted for his Dad. He sent me their logo and I put the .jpg file into my draw program and drew over the logo. He then wanted me to paint and decal 3 MTH cars as real train cars. Here is what Aaron wrote me: 

Ricky,



I meant to write to you sooner but I just wanted to say thank you very much for the boxcars. They turned out better than I could have imagined and I know my Dad will be amazed when he sees them.

Thank you again!!!
Aaron.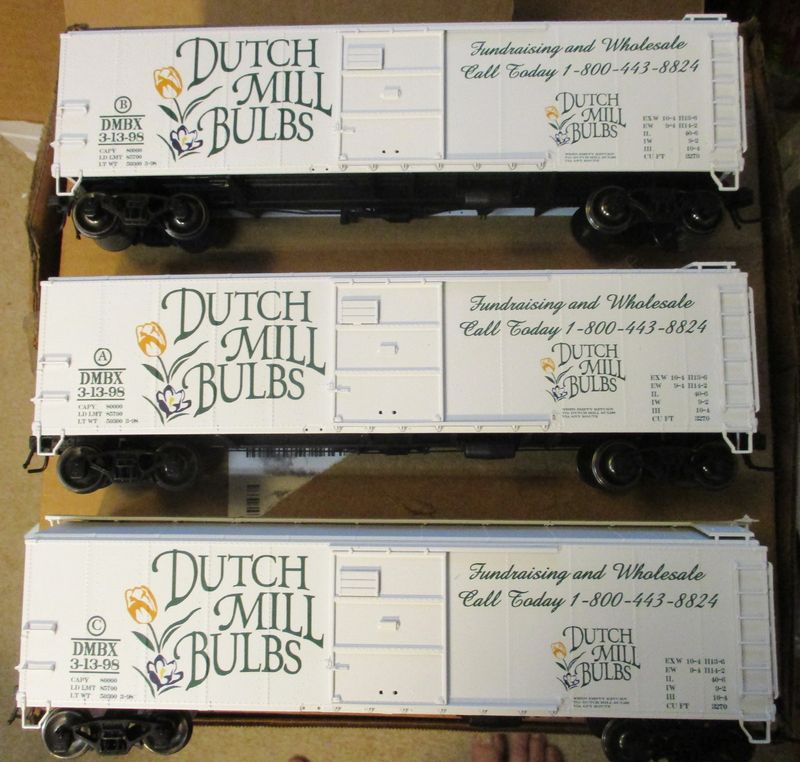 Cameron Smith out on the West Coast models some high quality HO Models for his pike. His loves modeling the PRR At the turn of the century. These are his latest PRR/ 
WEST JERSEY AND SEASHORE R.R. GR SERIES WOOD GONDOLAS. CAMERON NOTED: 
The Funaro kit represents the car after rebuilds, with steel drop ends and a post-1905 stake pocket arrangement.  I modified the kit parts by carving off the three lines of rivet detail on each end that show rivets flush on the end panel.  I scribed the ends inside and out to represent the wooden boards with which the cars were originally fitted, then also scribed the insides of the side panels, which have no detail in the kit.  I also roughed the inside faces with a hobby saw, to simulate wood grain.
During construction, I added a scale 2" x 6" board over the steel end beam.  I also placed side stakes cut from channel strip in the as-built configuration.  The as-built cars had ten stake pockets on each side (five groups of two), whereas the rebuilds and new builds from 1905 had twelve.  On the end beams I used ratchet-and-pawl castings cut down from Bowser GLa brake stand parts, as well as Bowser GS/GLa brake wheels--one on each end, as the cars were originally outfitted.  I also added Precision Scale chain and medium-size hooks to represent the safety chains fixed to the car ends as built.
I might still go back and add cut levers and air retainer valves, which aren't on the model I photographed.  I used Kadee heavyweight arch-bar trucks with Code 88 wheelsets.  These look passable (to me, anyway) as PRR 2D-F1 trucks.  The car has Kadee no. 58 semi-scale couplers.  I hand paint the couplers and wheel faces with Polly Scale light freight car red. To paint the car bodies and truck frames, I used Ace Hardware Premium rattle-can red oxide, with a spot coat of Model Master gloss under the decals.  For touch-ups to the red, I use a roughly 50/50 mixture of Polly Scale oxide red and caboose red.  I brush-painted the gray interior with a mixture of craft acrylics to a shade I liked.  I like brush painting for this because brush strokes can emphasize the simulated wood grain of the boards.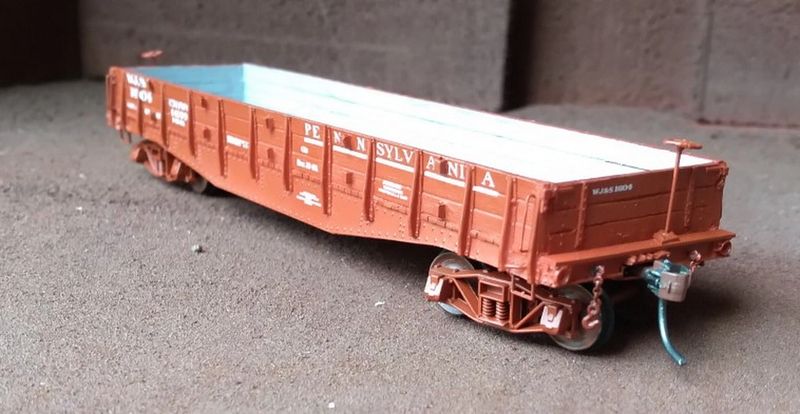 And another long time customer and custom painter Bill Wade's been at it again. This time with a fleet of Cities Service Oil tankers AND a matching switcher for the refinery.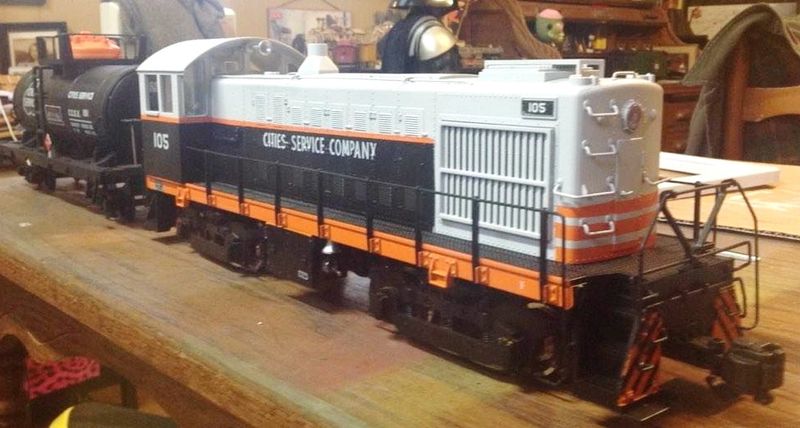 AND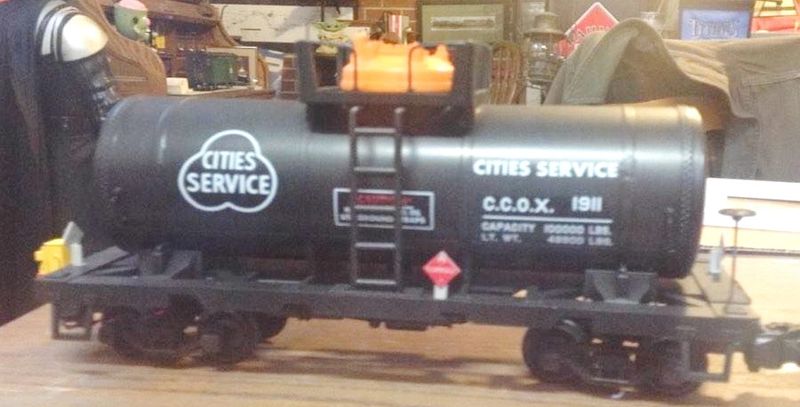 Here are the oil tankers.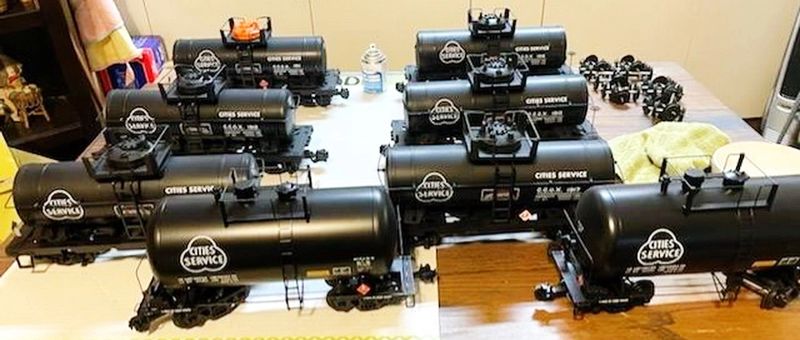 Custom painter Bill Wade can be reached at, 
flexabill@aol.com
 If you have an upcoming project.
Joe Marra has been a customer for several years now and sent pictures of some of the cars he has custom painted and decaled for his O Scale RR using Modern Rails Decals.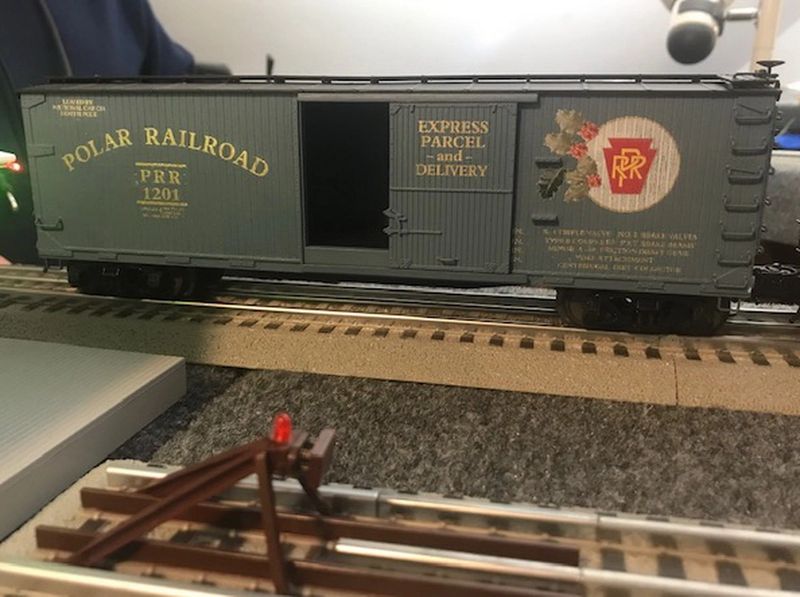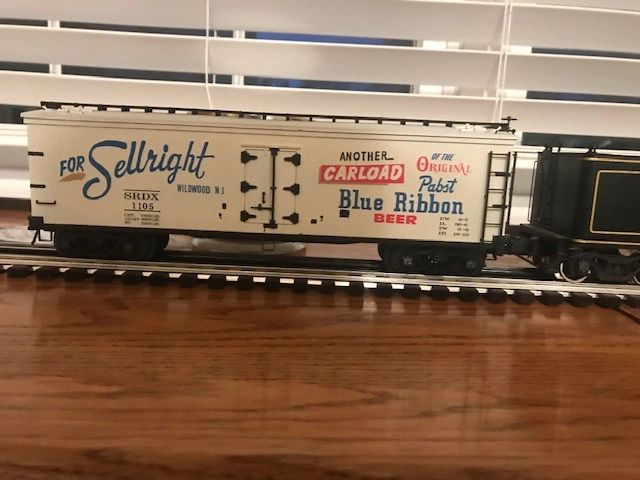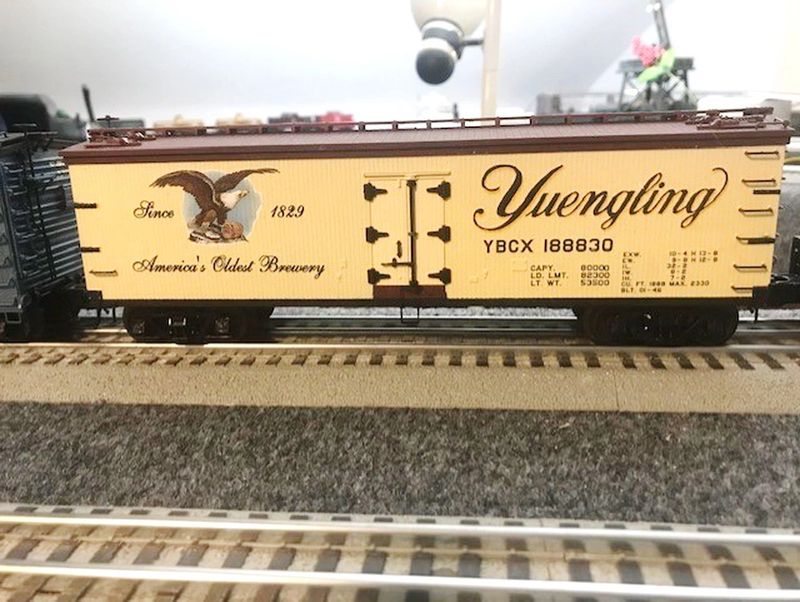 Larry Trumbull wanted to do a one off MILWAUKEE ROAD USA Trains 50 Ft DD Steel boxcar. Here is what he came up with. Very professional looking job there Larry. Agreed! G-Scale.

Joe Flint ordered a couple of sets of LV 52 Ft. Steel gondola decals for his R.R. Here is one of his finished products. Very high quality workmanship Joe. Good job.

Louis Steffenhagen wanted to decorate an Aristo Craft G-Scale RDC Type passenger train.So he sent me pictures of the real ones and dimensions for the decals of his model. This is what we came up with. Very nice looking PRR lettering.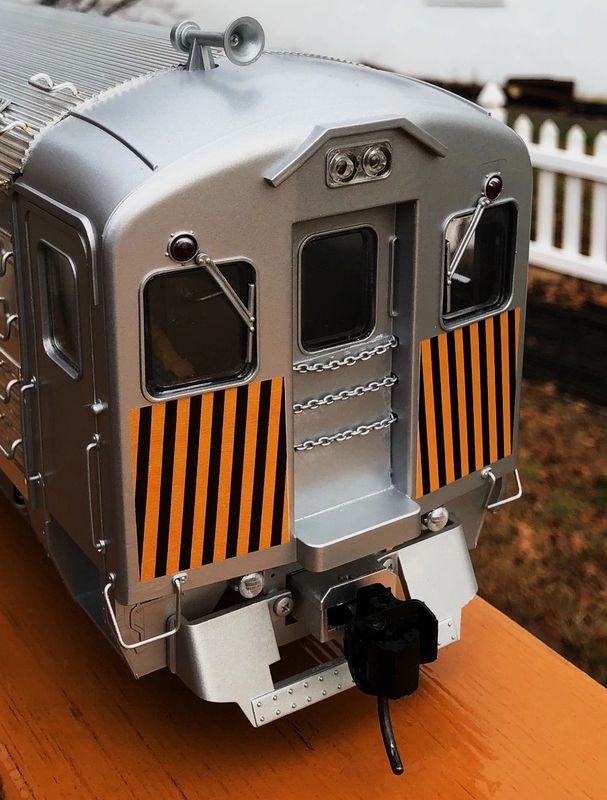 My customer Cameron bought some decal sets from the cart on my website and he made a German American Tank Lines tanker. Cam did an awesome job huh.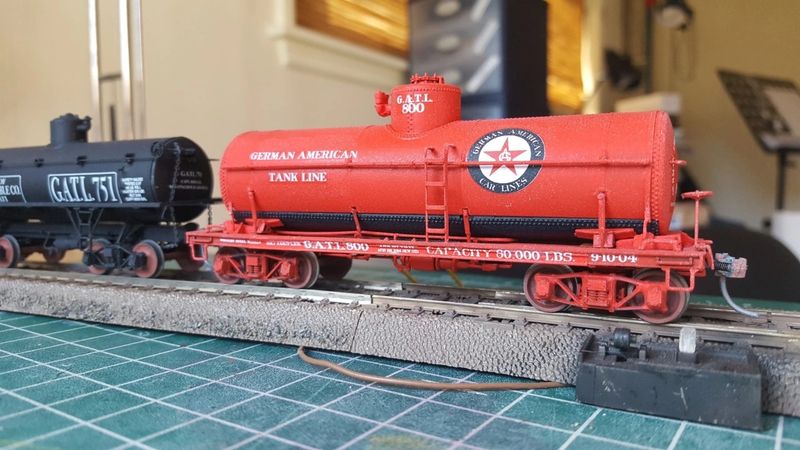 Louis Steffenhagen contacted me through email and wanted a set of decals for G-Scale stream lined cars. I made up the upper belt lettering and cars names. He also wanted the name of his Garden RR on a drumhead for the cars. Here is what I came up with from a penciled sketching he had sent me. It does look good now.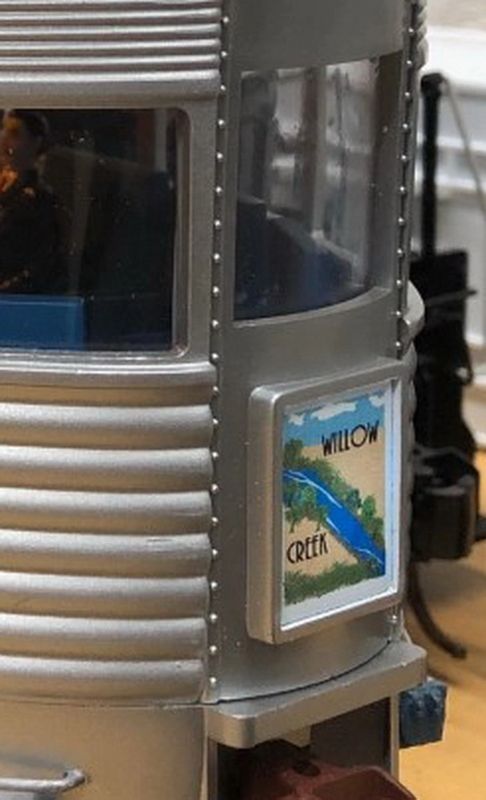 Michael Chizmar's project was an Old Frothingslosh reefer car and you can see it sitting by his brewery on his pike with the fat lady can of Pale, Stale Ale. Very nice job Mike!
Ben Maggi scratch built this Borden's Butter Dish milk car. He sent me dimensions I asked for and drew the Artwork right over a proto type cars picture. I think that's some pretty decent work Ben did there. Wouldn't you agree.
Larry Trumbull ordered 2 sets of Modern Rails G-Cal Decals in Southern Pacific for 50 ft DD boxcars. Here is what and how he decorated his USA Trains model.
My car was sprayed with Tru-Color TCP082 Rich Oxide Brown, (2 coats)
Decals from Modern Rails, using Solvaset decal setting solution. DUST with dullcoat. One very light coat. Here is his excellent results.

Michael Chizmar's Yuengling Reefer car. Great job Mike!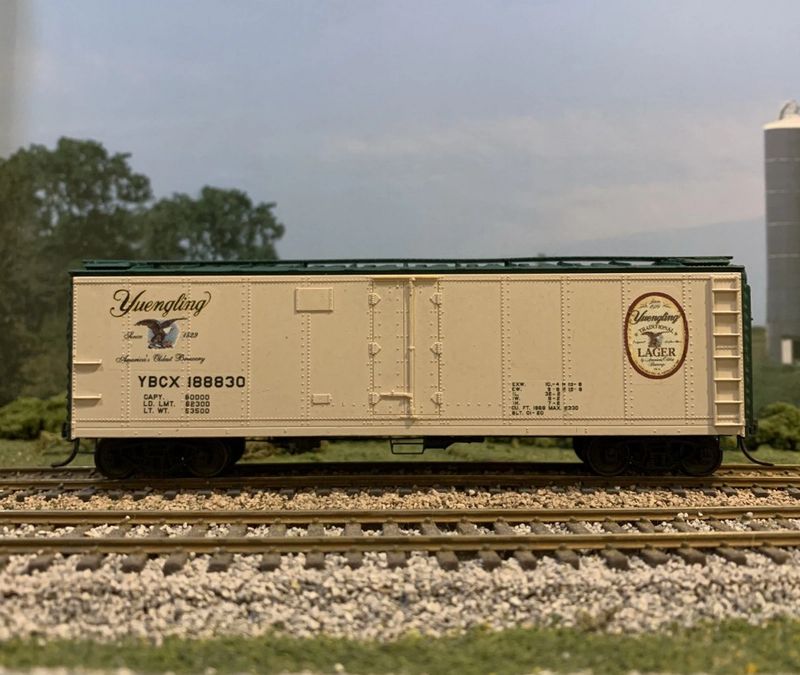 Mike Green ordered some on-file decal sets  of 2 different types of Delaware and Hudson Glass Recycling hoppers. He did a great job of painting and then applying the decals he bought.

Bill Wade a repeat customer who also does a great jobg in Custom Painting service as well, Did a 40 SD boxcar in New Orleans Public Belt. A very good looking job as usual Bill!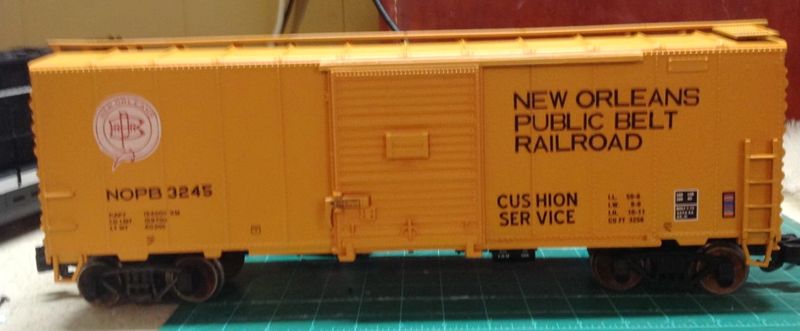 Cameron Smith ordered a set of PRR MOW Car -tool car decals and decorated it for brown turn of the century style. Here is his rendition. A great job Cam. Thanks for the pic. 

Jeffrey Koch asked if I had the Duluth, Missabbee, and Iron Range Locomotive set in HO Scale. I only had it listed in the G-Scale sets. So I added the set to the HO Catalog as well. AS you can see, Jeffrey said he was a bit rusty on applying the decals. Well it looks like he never stopped decaling equipment as is evident in his 4-8-8-4 Steam locomotive and tender shows. Great job there Jeffrey!
Carl Rettig wanted to replace the lettering on some American Flyer trains. He sent me close up pictures of the lettering and details of dimensions and spacing of lettering and we came up with these S-Scale sets to replace his lettering.


Ben Maggi emailed me wanting to model a specific BN Flatcat he saw in a picture. Here is the results. The decals are actually slanted like they are on the real car. Ben also added what looks like a custom load of cold rolled steel plate. Another nice job Ben.

Dan Knoch purchased one of my G-Cal Decal sets from my library of 100's of large scale decal sets. He had a Nickel Plate Road RS3 Switcher and wanted the wood caboose set for NKP as well. You Can see the nicely painted, decaled and detailed caboose he custom made. This decal set was originally released a week before the EAST COAST LARGE SCALE TRAIN show about 15 years ago and was a work shop on decal installation that I gave at that show and we decaled a Bachman wood type caboose just like Dan's masterpiece you see below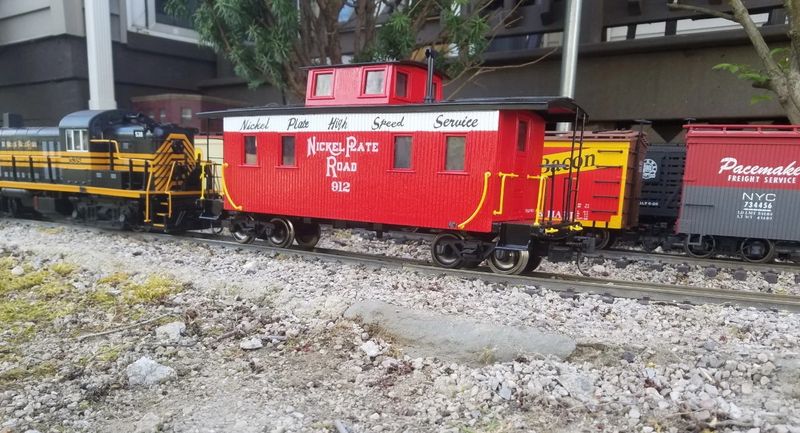 Ryan Crawford was wanting to build a Chicago & Illinois Midland Diesel locomotive so we fixed him up with the decal set. Ryan wrote: 
 This is an Atlas SD24 chassis, frame, cab and nose mated to a resin casting of a proper SD18 long hood. Of course, the numbers were your handy work and they look perfect. One thing I did do is when I applied the numbers I did them in two layers to make it appear more opaque. They are perfect looking and really make the model prototypical.

Cameron Smith also had decals made for his flat cars in PRR as well. Here is what he told me about the flats: 
I also got around to lettering a couple Funaro & Camerlengo PRR class FM Flat Cars circa 1906, using the decals you made for me.  
CAMERON SMITH IS MODELING THE PENNSYLVANIA RR IN HO SCALE AND WANTED SOMETHING THAT NO ONE ELSE HAD PARTICULAR TO HIS ERA THAT HE'S MODELING. CAMERON GOT A HOLD OF THESE STEAM ARE 3D PRINTED GB WOOD GONDOLAS. CAMERON PURCHASED THESE DECALS FROM ME ABOUT 3 YEARS AGO AND WITH THE STAY AT HOME ORDERS HE GOT AROUND TO PAINTING THESE CUSTOM PRODUCED GONS AND APPLYING THE 3 YEAR OLD DECAL. THIS SHOWS YOU THAT THE I PRODUCE WILL LAST FOR YEARS IF STORED IN THE SEALABLE BAGS YOU RECEIVE THEM IN AND STORED AT ROOM TEMPERATURE. NICE CUSTOM GONS THERE CAM!
PRR class GB hopper-bottom gondolas, built from the Doug Forbes Shapeways body, with added details and decals to represent service during the first decade of the Twentieth Century. 
 
THIS IS THE SECOND CENTRAL OF GEORGIA LOCOMOTIVE BILL WADE HAS CUSTOM PAINTED AND DECALED. BILL IS A GREAT CUSTOM PAINTE
R, DON'T YOU AGREE!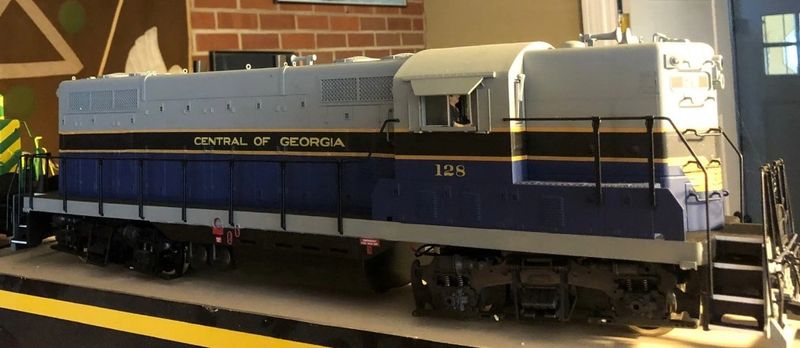 BILL WADE WANTED TO MODEL THE MKT DIESEL SHOWN BELOW. HE SENT ME SOME DIMENSIONS AND PICTURES OF THIS LOCOMOTIVE AND WITH HIS INPUT, THIS IS THE NEWLY RELEASED DECAL SET AVAILABLE. BILL HAS MANY CUSTOM PAINTED AND DECALED MODELS ON HIS RAILROAD. ITEMS THAT NO ONE ELSE HAS. NICE CUSTOM JOB THERE BILL!

Walt Walewski contacted me some time back about some Large Scale decals for an Aristo SD-45 he had.
He sent me dimensions from his loco and we designed a set together with his input, you see the beauty yet simple elegance of his PRR SD-45 and his nicely groomed mainline.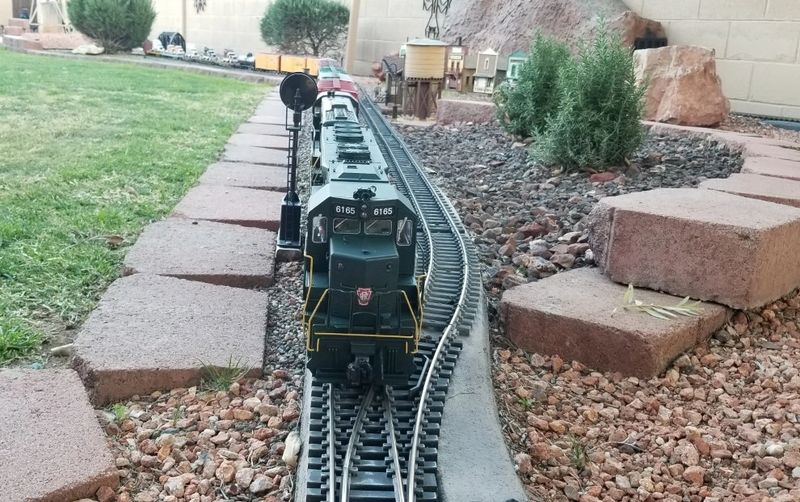 Lenard Tracey contacted me about a G-Cal Decal set for a G Scale GP locomotive he had. Lenard started with a Lionel GP 20 which was in The Milwaukee Road scheme. He stripped and repainted it into: Baltimore and Ohio Graphics. Nice Job Lenard!!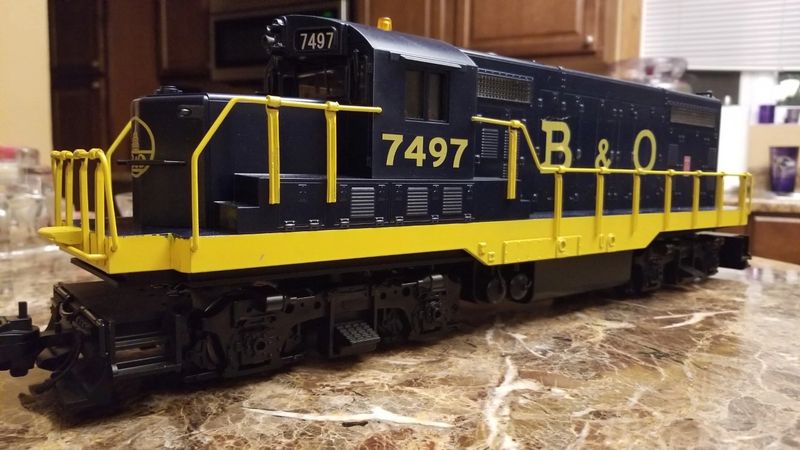 Terry Kolenc emailed me and asked if I could make him HO scale decals for Wisconsin Electric utility which has Thrall hopper cars. He sent me detailed measurements from his MDC cars and several pictures of the real hopper cars. It took us some time but as you 
see, the results were worth the wait. He also noted that the Wisconsin outline required that single decal to be cut into 7 individual pieces to install properly. Give him a hand for his work which he said averaged 3 hours per car to install these decals. A lot of work but he now has the cars he wanted. Nice job Terry!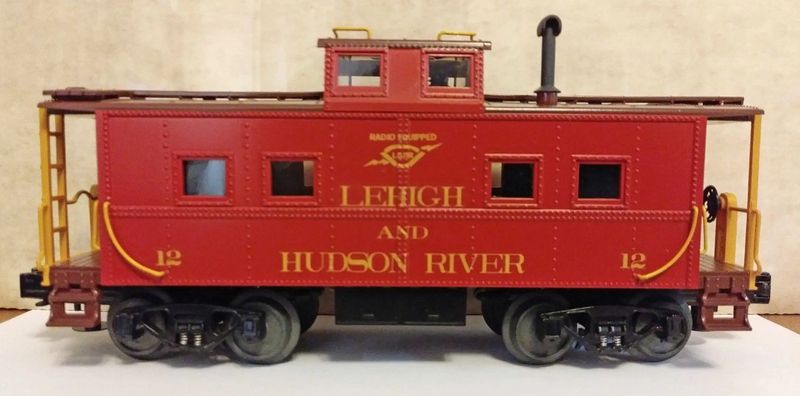 Above: David Pfeiffer emailed me about an O scale Decal set for a Lehigh and Hudson River North east type caboose. I had the set in HO scale and he shot me some dimensions of his O-Scale caboose. And as you see, A fine job he did for sure. If you don't see what you want, just ask. I can most likely make your decal sets that you only dream of right now. Just ask.
Jeff Koza wanted a particular switcher for his model R.R. SANITARY DISTRICT OF CHICAGO. He sent me links to the real switcher locomotive's picture. So I made him this set of decals for his road. Paint decals applied by Bob Kleinman. 
John Spange ordered our "Buffalo Brands" HO Whiskey truck trailer decal sets and did up a Sam Adams Lager which is a 1 piece decal which no painting is required as the sides and ends are full decals. He also did up 2 Chrome sided trailers in Johnnie Walker and Louis the 13Th whiskey trailers as well. The chrome trailer sets look awesome. Great job John!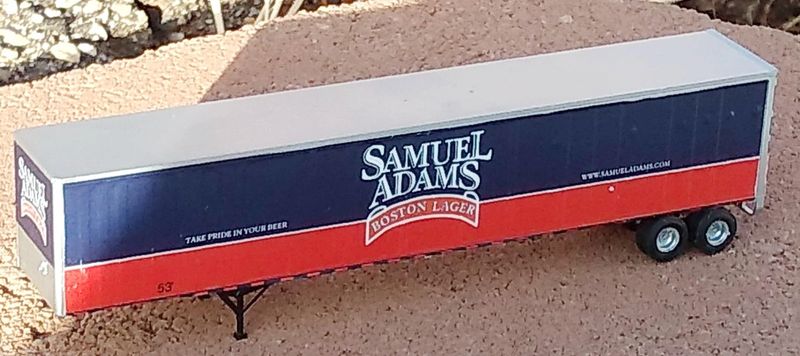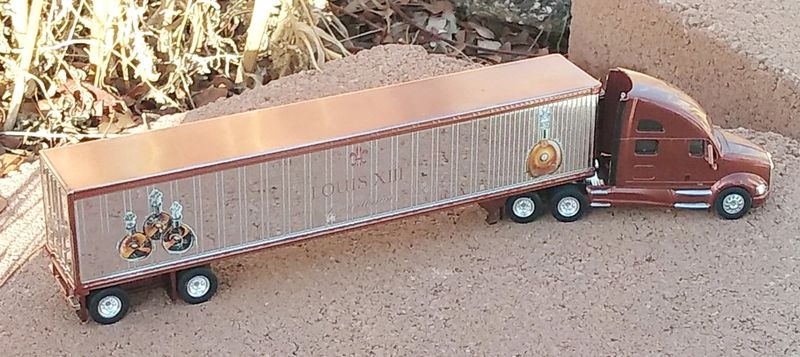 Bill Wade's been at it AGAIN folks. He had an Aristo stock car and made a personalized car for his fleet. He emailed me a donkey to which he instructed me to add some simple text to and Walah. A Central of Georgia stock car with attitude. Great job Bill.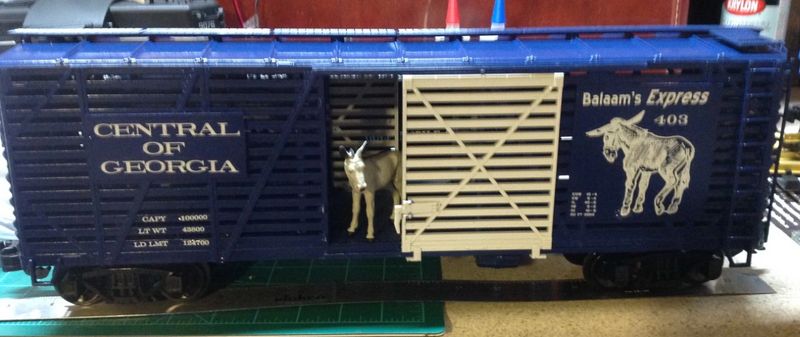 Bill Wade wanted a copy of an HO car for his LGB cylinder hopper.So he gave me some size info and there you are!

Carl Rettig ordered a set of O Scale "Mr. Gilberts Private Car" Here is Carl's nearly complete car with out end railings, but with the additional lettering shown above which he alerted me to.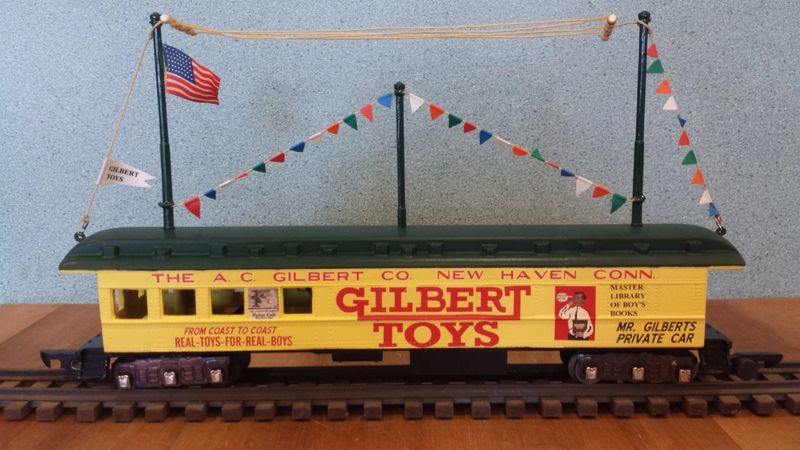 Wilson Martin built this tanker for his road and decorated it General American Tank Car. Decals from

MODERN

RAILS G-CAL DECALS

LINE. Good thinking Will putting together a home built tanker. And a great custom paint and decaling job. I especially like the caustic soda dripping stains. Scroll down a bit and see Wilson's Chrome SF Units he made with my decals.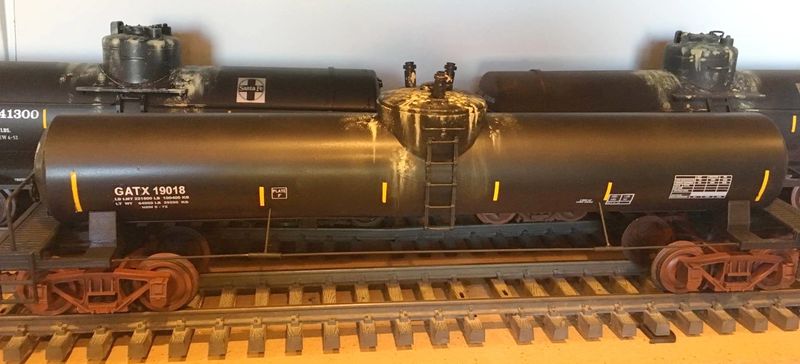 This is the tanker that received your decals. 2" PVC pipe and a Kirkville Locomotive Works kit. The dome assembly came from Ozark Miniatures. I'll add "molten sulfur" letters and add weathering then I'll call it finished!  

Bill Herbert wanted to make a old style MDC wood steam era boxcar. We found a decent picture of the MDC car he wanted to model. I drew the decal set right over the top of the lettering that was on the pictured boxcar. We see his newly modeled car below. Bill also wrote me: 
Hi Ricky,  The car came out great!!  Can't thank you enough for doing this one.  Photo attached.  I can send other views if you want me to. I was a little nervous about changing things on the car because of your comments but I really had no problems at all.  I did weather it lightly.
Bill
Awesome job on the painting and decal placement on your model Bill. I am pleased that you chose
Modern
Rails Decals
for your project.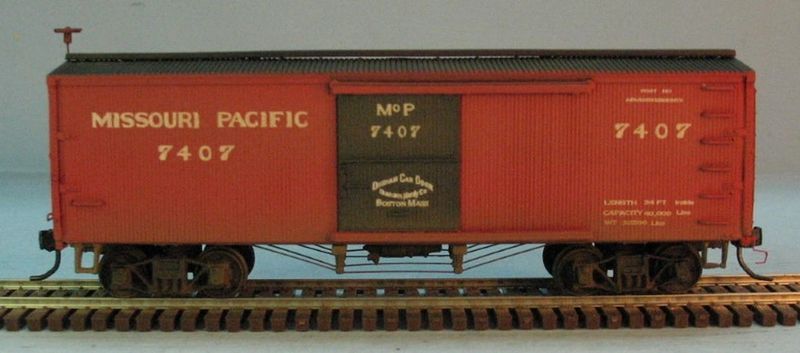 WILSON MARTIN CONTACTED ME ABOUT MAKING DECALS FOR HIS SANTA FE CHROME UNITS. HE SENT ME PICTURES AND SIZES OF FONTS ETC NEEDED FOR HIS PROJECT.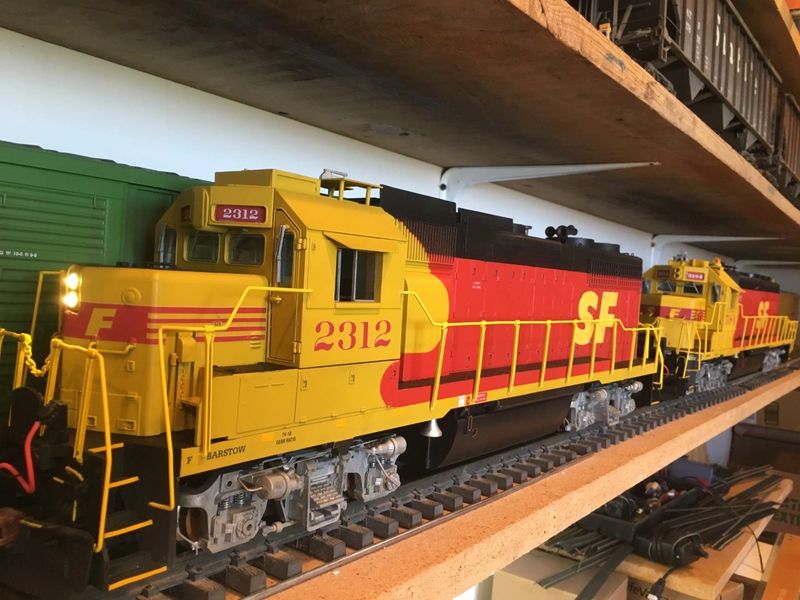 WILSON ADDED THIS: I shot them myself. I used Floquil paint I had bought years ago, through a Paasche H model single action  airbrush. SP Scarlet, ATSF Yellow and Engine Black, thinned with Diosol. Then clear coated with a gloss acrylic spray prior to decals which were set with Microscale Microset and Microsol, then Testors dull cote, feathered on lightly, as per your instructions. And I love the results!
A while ago Brien Wood contacted me about a single decal for his coal tender and water capacity for a decal.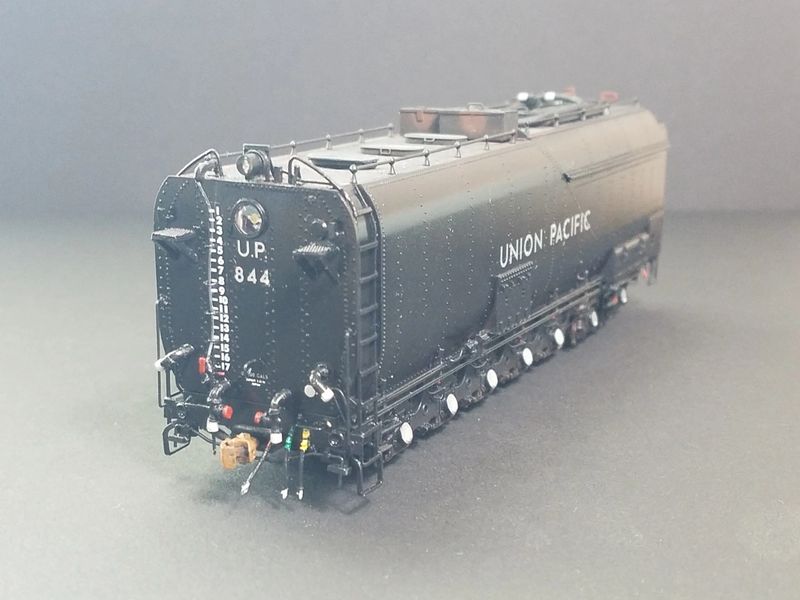 Ricky,
I received the decals on Monday.  Really appreciate your quick turn around!  Attached is a quick picture showing how the water level decal is used on my model.  If you want to use it on your website.
Thanks again,
Brien
Larry Mills worked with me to redecorate his CSX Diesel. And it turned out AWESOME!!
Here are a couple of photos of my repainted and decaled CSX that you made the decals for. I finally found the pictures in my train file foulder. 

Ron Nagey was very helpful in helping me to get this engine complete and back on the rails. It looks great! Thank you for working with me on the decals.



Sincerely, Larry Mills.
Thought I would send a couple shots of the first unit done...a Weaver U25B...custom made firecracker antenna, dropsteps, and sunshade, along with an Atlas bell, and precision horn...Locomotive was painted Floquil reefer yellow, and Scalecoat CP rail red 80% to 20% white... with out you this locomotive would not be  possible...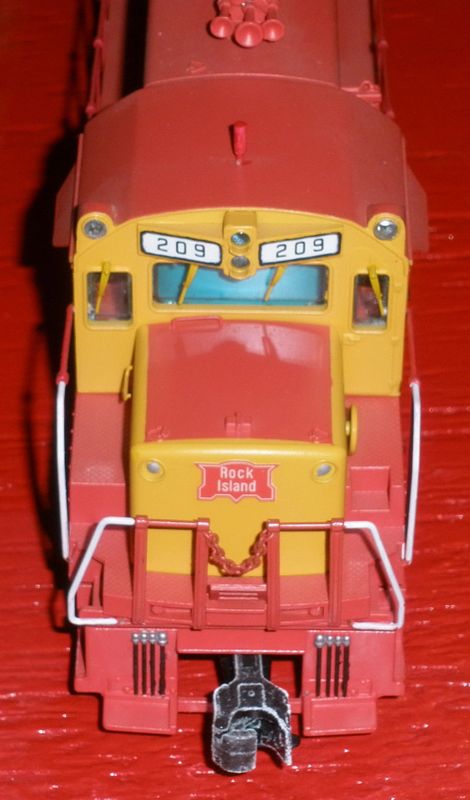 Brandon Presley Contacted me about 2 Southern Crescent passenger cars he wanted to change the names on. Working with Brandon, him letting me know the sizes he wanted for his cars names. We got the color right using Elephant's rocket Sunflower with a 2 spot color pass. He applied the decals and they look amazing. good job Brandon! The road names you see were drawn by Modern Rails Decals 2019.





IN THIS PICTURE WE SEE MARCEL MANTHA'S  CUSTOM PAINTED AND DECALED, LGB CABOOSE SPORTING MODERN RAILS G-CAL DECALS FOR LARGE SCALE. CUSTOM PAINTED AND DECALED BY: RON NAGY FROM WESTERN ARIZONA. GREAT JOB RON!!
IN THIS PICTURE, We see Chris Klein's G Scale Aristo- Western Maryland PS2 hopper custom painted, Modern Rails G-Cal Decals applied and his award winning rust weathering job.
Chris told me
. It is a combination of burnt umber oil paint and weathering powders.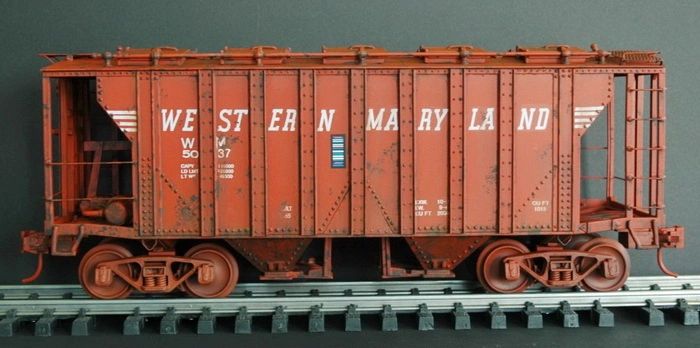 Here we see Below, Chris Fink's Cargill Corn Sweeteners Tanker car he custom painted and decaled with Modern Rails Co. G-Cal Decals.


I HAVE THE NEWLY RELEASED ALPS TRUE COLORS AVAILABLE:
SUNFLOWER YELLOW-A VERY DEEP YELLOW WHICH CHANGES THE GAME PLAN ON ANY TRAIN, LOCOMOTIVE HAVING YELLOW GRAPHICS, CHEVRON STRIPES. THESE ARE PREMIUM COLOERS AND I MUST CHARGE ACCORDINGLY AT $15.00 PER ORDER FOR MOST SCALES. HO WILL BE SLIGHTLY LESS$$.


ED JOHNSON'S 3 AND 4 BAY MAKE A WISH CYLINDER HOPPERS. A DONATION HAS BEEN MADE IN ED'S NAME.


Here is another model cutom painted and lettered by john Spange using Modern Rails Buffalo Brand HO Scale decals.




The cylinder hopper below was custom painted and decaled by John Spange. Nice work don't you think!
Richard Wentzel from New Jersey Sent us this picture of his Pullman Standard PS-1, The 50,000Th Boxcar  model he Custom painted and decaled using Modern Rails Buffalo Brands Water Slide Decals. Awesome work Richard!!!