ALL PRODUCTS: MINIMUM ORDER $20.00
NO EXCEPTIONS.
I can usually make ANY decal you desire. I can use Pictures as a reference source to make your custom decal sets.
THERE IS A
$25.00 Minimum setup fee (A 1 TIME CHARGE)
to Custom Draw ANY Sets NOT in my files. This depending on how long of a time to draw, or how extensive your design is. And how long I need to "Work" on my draw program to design your decals. Setup charges do not include the decal set price.
IMPORTANT! SCANS MAKE LOUSY DECALS!
Sometimes that maybe the only way to make a special decal set such as this Mr. Gilbert's Private car set which is available in O scale. This could only be recreated with scanned images of several different Gilberts toy advertisements that I found and which I used to create this one of a kind, decal set for usage by an O Scaler. This is where the Setup charge may come into the design of your decal sets. Hours of trolling the internet looking for photos and information that I use to make YOUR Custom Decal Sets!

 TO MAKE A SET OF DECALS, I WILL ASK YOU FOR DIMENSIONS FROM YOUR MODEL. THIS IS USUALLY MEASURED IN RECTANGLES. HERE IS AN EXAMPLE OF WHAT I NEED FOR ANY SCALE THAT YOU MAY BECUSTOM BUILDING. SEE BELOW.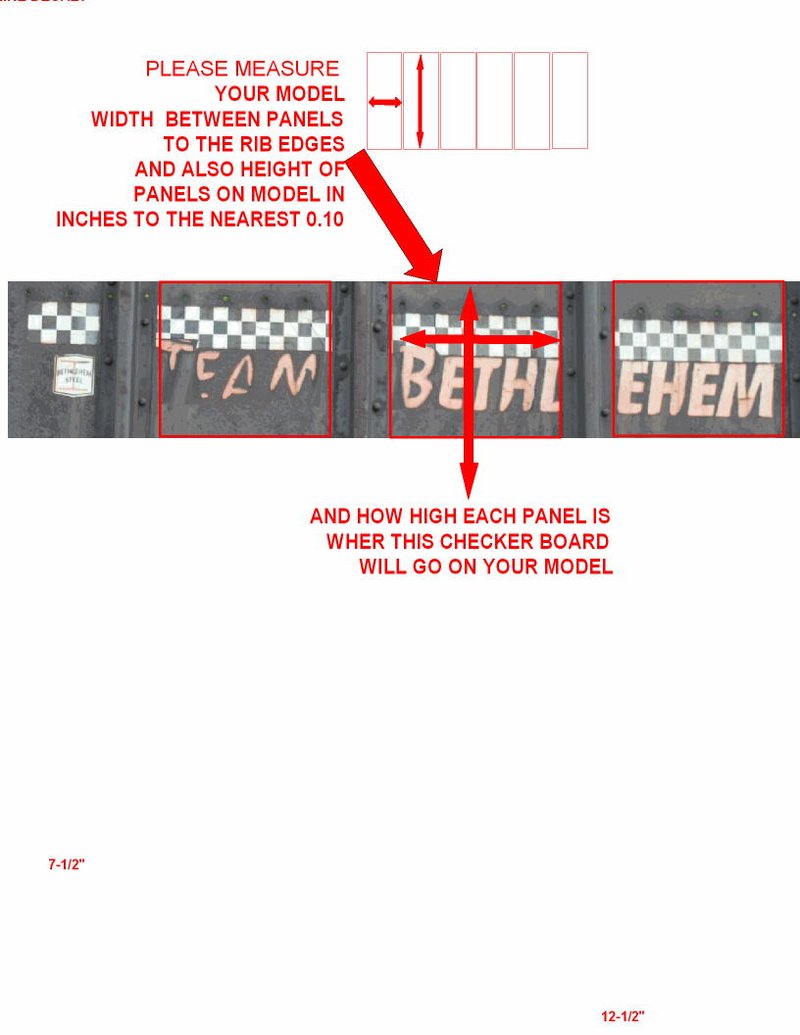 HERE IS ANOTHER EXAMPLE OF WHAT IS NEEDED FOR A CUSTOM WESTERN MARYLAND STEAM LOCOMOTIVE SET I DREW FOR A CUSTOMER. THESE WERE THE MEASUREMENTS THE CUSTOMER PROVIDED TO ME. I DO NOT MEASURE IN METRICS ONLY FRACTIONS OR DECIMAL EQUIVALENTS OF AN INCH.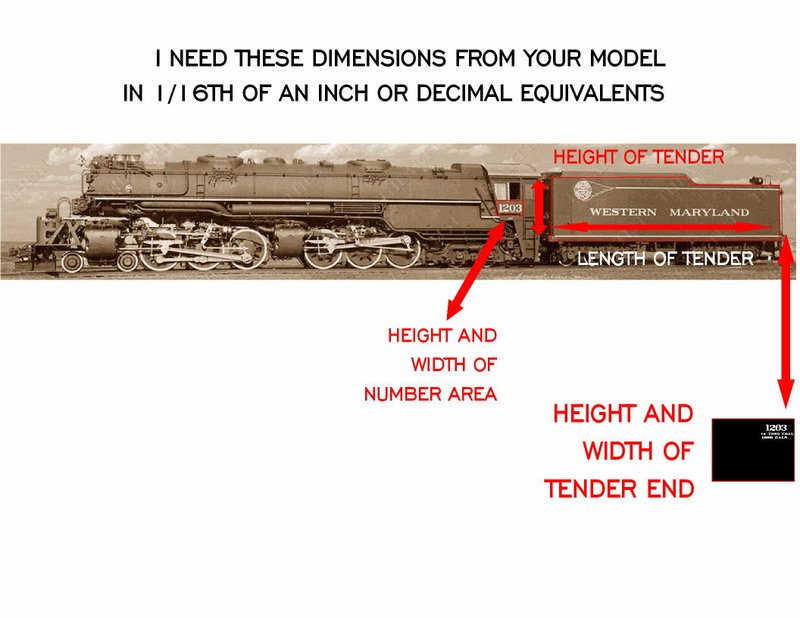 . A BOXCAR MODEL WOULD BE MEASURED THE SAME WAY, THOUGH A SINGLE CENTERED DOOR BOXCAR WOULD MOST LIKELY HAVE EQUAL RECTANGULAR MEASUREMENTS ON EACH SIDE OF THE CENTERED DOOR. ON THE OPPOSITE SIDE OF THE COIN, A DOUBLE DOOR, DOUBLE PLUG DOOR BOXCAR MAY HAVE CENTERED DOORS OR WHICHEVER TYPE. THOUGH THE DOORS MAY ALSO BE OFFSET TO ONE SIDE OF THE BOXCAR, THEN 1 RECTANGULAR MEASUREMENT WOULD BE SMALLER THAN THE OTHER SIDE OF THE DOUBLE DOORS.  

HERE IS A SD OR GP TYPE LOCOMOTIVE MEASUREMENTS I WILL NEED TO MAKE YOUR DECAL SET.